Peering Through the Fog to Find the Best Sectors into Yearend
12/24/2015 7:00 am EST
Focus: ETFS
Heading into yearend, for traders who want strong stocks to bolster their portfolios, Greg Harmon,of Dragonfly Capital, uses technical analysis to determine that the stocks in these two sectors should fit the bill.
Do you remember that Christmas, a few years back, where the weather was so bad you did not know if Santa would be able to make it through to leave presents for all the kids? He focused and found Rudolph to light the way so he could see clear through the fog.
Heading into yearend the same can be done to peer into the market and see what areas are ripe for some upside. Oh, not by using a flying red nosed reindeer. But by the most basic technical analysis. Here are two sectors that not only holding up well in the face of a tough market, but set-up to move higher.
Consumer Staples (XLP)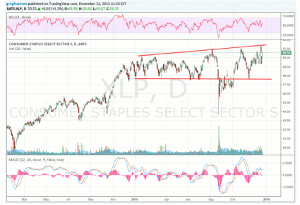 Click to Enlarge
Consumer staples include stocks like Procter & Gamble (PG), Coca-Cola (KO), Phillip Morris (PM), and CVS (CVS). This sector has moved in broad consolidation all year like the rest of the market and had a strong pullback in August…like the rest of the market. But unlike the rest of the market, it continues to make higher highs. Some will talk of the defensive nature of the sector and what that might mean in the business or economic cycle. But what is really important is that these stocks are strong and that means this is a sector to focus on for your portfolio.
Healthcare (XLV)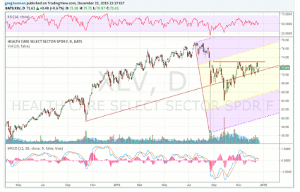 Click to Enlarge
Healthcare stocks are also showing strength. This group includes stocks like Johnson & Johnson (JNJ), Pfizer (PFE), Gilead (GILD), and Merck (MRK). They have had a strong trend higher for a few years but retested many indicators with the pullback in August that—for many names—ended up even worse in September. But now there are testing resistance as they rise along the Median Line of the Andrews Pitchfork.
If you want strong stocks to bolster your portfolio focus your attention in these two sectors.
By Greg Harmon of Dragonfly Capital