Follow
About Greg
Greg Schnell, chief technical strategist of GregSchnell.com, has presented across the US and Canada educating traders and investors on how to use stock charts. He serves as secretary on the board of the Canadian Society of Technical Analysts (CSTA) and is a member of the CMT Association. As a senior technical analyst for StockCharts.com, Mr. Schnell writes several commentary articles, including Don't Ignore This Chart, The Canadian Technician, ChartWatchers, and Commodities Countdown.
---
With the success of Tesla's stock, there are copycat investments showing up everywhere. There are many angles to investing in the success of EV and Greg Schnell's presentation will work through various ways to diversify from a single stock risk but invest in the transition to alternative fuels. This promises to be one of the biggest investment themes of the decade.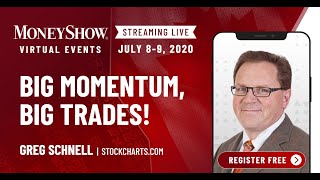 Greg Schnell, CMT, MFTA, lays out some simple chart clues to help find weekly setups that can run for a while. As co-author of Stock Charts for Dummies, Mr. Schnell will demonstrate some simple chart tools that you can use in your investing process.

Using some key examples to demonstrate the range and power of charts, Greg will demonstrate some critical attributes and indicators that investors can use to make their charts come to life. Using strategic chart settings, Greg will demonstrate how to find the strongest stocks in the market.