Follow
About Barbara
Barbara Stewart, CFA, has over 30 years of investment industry experience; five years as a foreign currency trader and then more than two decades as a portfolio manager investing on behalf of high-net-worth entrepreneurs. In 2010, she saw a need to challenge outdated financial industry stereotypes and share positive messages about women and money. Today, Ms. Stewart is recognized worldwide as one of the leading researchers in women and finance. Her Rich Thinking® global research papers quote smart women of all ages, professions, and countries, and are released annually on International Women's Day. Ms. Stewart is a columnist for CFA Institute and Canadian MoneySaver and she is on the advisory board for Kensington Capital Partners Limited in Toronto.
---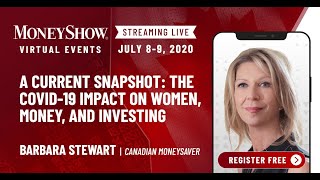 This is a period of financial reset! Women are taking a long hard look and re-examining all aspects of their financial and investing lives. In this timely discussion, global researcher Barbara Stewart, CFA, will discuss the five most common themes from her 25 interviews from her Rich Thinking® Financial Advice Hotline. She will cover how to get started investing, whether or not you have the right investment adviser, investment performance and risk, fees and funds, and financial planning.

A panel of experts who are working to increase women's knowledge of investing and their confidence in making investment decisions, either on their own or with a partner or family.



---