Technical Action Looks Positive
12/07/2010 9:59 am EST
Focus: STRATEGIES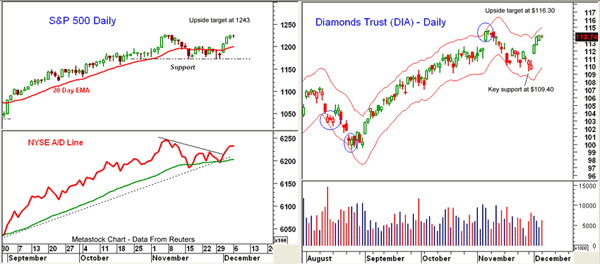 Click to Enlarge
The S&P 500 corrected just over 4% from the early-November highs before turning higher last week. The S&P has next upside targets at 1243 with the 20-day exponential moving average (EMA) at 1200 and then stronger support at 1170. The Advance/Decline (A/D) line has moved through its downtrend, consistent with a resumption of the uptrend. Key support for the A/D line lies at the November 16 lows. The Diamonds Trust (DIA), which is the ETF that tracks the Dow Jones Industrial Average, came close to the starc+ band last week with first support at $112-$112.50 and upside targets at $116.30.
Other starc band turning points are circled. To learn more about trading with starc bands, see this recent Trading Lesson.
Tom Aspray, professional trader and analyst, serves as video content editor for MoneyShow.com. The views expressed here are his own.