Are REITs Rolling Over?
12/16/2010 9:52 am EST
Focus: ETFS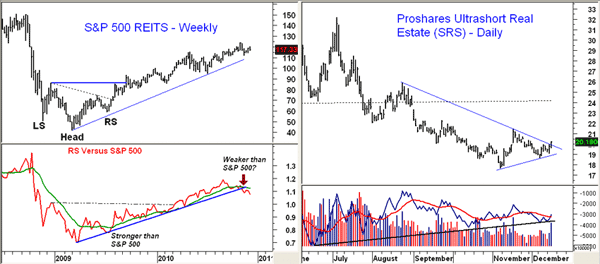 Click to Enlarge
Chart Analysis: Even though the prevailing outlook for most types of real estate since the summer of 2009 has been negative, the S&P 500 REITs Index has been performing better than the S&P 500. In September 2009, the RS, or Relative Performance line, completed its bottom formation and started its uptrend, indicating that this index is stronger than the S&P 500. This uptrend has now been broken. The RS line (in red) has also dropped below its now-declining weighted moving average (WMA, in green). The chart of the ProShares Ultrashort Real Estate ETF (SRS) has broken its daily downtrend on good volume, and the on-balance volume (OBV) has formed higher lows. There is initial resistance at $21-$21.50 with stronger resistance at $23-$24. Initial support stands at $18.60-$19.
What It Means: The S&P 500 REITs group has risen from a low of 50 to almost 120, but there are now signs that the trend has changed. A drop below 115 would be further evidence and the action of the RS line suggests this group will be weaker than the S&P 500. The positive daily chart of SRS suggests it could rally to the $23-$24 area.
How to Profit: Since SRS is a leveraged ETF, only small positions are appropriate for experienced investors or traders, who could look to go long SRS at $19.66 or better with a stop at $18.48. If filled, the stop could be raised to breakeven on a move above $20.90 and profits taken at $22.94 or better. If SRS hits $20.90 before the order is filled, the trade should be cancelled.
Tom Aspray, professional trader and analyst, serves as senior editor for MoneyShow.com. The views expressed here are his own.