Chinese Buyout Bullish for FCX?
04/05/2011 10:55 am EST
Focus: STOCKS
This week's takeover bid for Equinox Minerals by China's state-owned mining company may be the catalyst that reverses copper's recent downtrend and spurs rallies in industry leaders like Freeport McMoRan and Southern Copper.
Though the increased Chinese demand for corn is often mentioned as another reason corn prices are soaring, the lack of Chinese demand for copper is blamed for the lackluster action in copper futures. The intermediate-term outlook for copper prices remains positive from a technical standpoint, while the daily downtrend is still intact.
This week's $6.2 billion unsolicited bid for Equinox Minerals Ltd (EQN) by a unit of the Chinese state-owned mining company, if successful, could give them control of Africa's biggest copper mines.
This may be just the catalyst the copper market needs to reverse the declining short-term demand in preparation for what is expected to be copper shortages by the end of the year.
Freeport-McMoran Copper & Gold (FCX), Southern Copper Corporation (SCCO), and Sterlite Industries (SLT) are three copper stocks that deserve a closer look.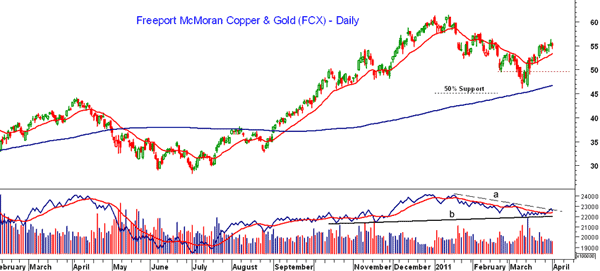 Click to Enlarge
Chart Analysis: Freeport-McMoran Copper & Gold (FCX) is a very widely followed stock that is frequently mentioned in gold commentary even though over 70% of its revenue comes from copper. FCX declined over 24% from the January 12 high at $61.34 to the March 10 lows at $46.20.
The correction held above the 50% support level from last summer's lows at $45, which also corresponds to the December 2009 highs


The rising 200-day moving average (MA) is now at $46.90, while the short-term 20-day exponential moving average (EMA) stands at $53.35


The daily on-balance volume (OBV) is above its weighted moving average (WMA) and is on the verge of breaking its downtrend, line a. The OBV has good support now at line b. The weekly OBV (not shown) did confirm the January highs


There is next chart resistance at $57.64 and once above the January highs, there are upside targets in the $65-$66 area
NEXT: Check the Charts for Southern Copper and Sterlite Industries
|pagebreak|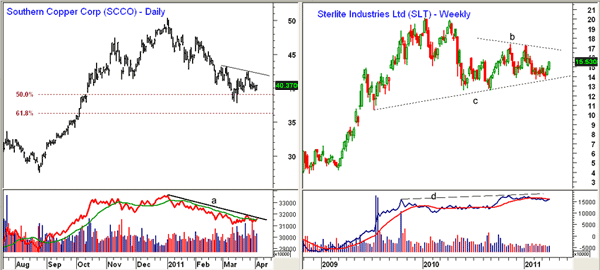 Click to Enlarge
Southern Copper Corporation (SCCO) had a strong upside reversal on March 15, as it traded as low as $37.75 before closing at $40.90.
SCCO rallied up to the $42.45 level before the recent pullback. This leaves key short-term resistance at $42.45-$43.13, which when overcome on a closing basis will complete the short-term bottom formation


There is additional resistance in the $47.60-$48 area. Once above the previous highs at $50.35, there are retracement targets just above $55


SCOO closed near the highs on Monday, leaving very short-term support now at $39.50-$40 with further support in the $38 area


The 50% support level at $39.11 was broken in March and the 61.8% support lies at $36.40.
Sterlite Industries (SLT) is a $13 billion Indian copper company that is the principal subsidiary of Vedanta Resources. The weekly chart looks quite interesting as weekly trend line support, line c, was successfully tested in March.
SLT has bounced nicely from the lows at $13.73 and closed strong last week. It added to the gains on Monday, closing at $15.53


There is key resistance now at $17.29-$17.39 (line b), which, if overcome, should signal a move to the all-time highs in the $19.75-$20 area


The weekly OBV made new highs in late 2010 and is acting stronger than prices. It is on the verge of moving back above its WMA. The daily OBV is positive


There is initial support now at $15 with much stronger support in the $14-$14.50 area
What It Means: Though the declining copper prices have recently taken most of the copper stocks out of the limelight, a bidding war for Equinox Metals could change this. The technical picture does look compelling and additional strength will confirm a bottom. A continually improving global economic picture should also be a positive for these stocks.
How to Profit: In my last look at copper stocks (See Are FCX, Copper Good Bargains Now?), I was looking for a retest of the lows, so my buy levels for FCX at $45.58 and $35.88 for SCCO were not hit. Therefore, I will recommend a two-stage buying process for the copper stocks with the risk/reward most favorable on SCCO.
For FCX, go 50% long at $53.62-$54.56 and 50% long at $52.22 with a stop at $48.88 (combined risk of approx. 8.5%). On a move back above $58.20, raise the stop to $52.23.
As for SCCO, go 50% long at $40.36 and 50% long at $39.04-$39.52 with a stop at $37.54 (combined risk of approx. 5.7%). On a move back above $43.15, raise the stop to $39.22.
As for SLT, go 50% long at $15.26 and 50% long at $14.32-$14.66 to with a stop at $13.93 (combined risk of approx. 6.7%). On a move back above $16.10, raise the stop to $14.46.