3 Vulnerable Canadian Banks
02/15/2012 11:40 am EST
Focus: STOCKS
Canadian bank stocks are attractive for their relative stability and safe dividends, but some, including these three, look to be in line for short-term corrections.
The impressive gains in financial stocks have certainly helped fuel the rally in the S&P 500. The late-day reversal on Tuesday and strong close set the stage for further gains early Wednesday. This makes a rally to the 1360-1370 area clearly possible for the S&P 500.
Apparently, gains in the very depressed European bank stocks have revived some of the largest hedge funds, whose performance had been disappointing. The Financial Times reported that these funds had gains ranging from 3% to over 14% since the start of the year, which is mainly attributed to their investments in bank stocks.
Many of the large money center banks have rallied back to major resistance, and several of the large Canadian banks appear to be forming short-term tops. These banks did a great job of weathering the financial crisis, and for 2012, they are rated as some of the best banks in Fitch's global portfolio of banks. Nevertheless, these three large Canadian bank stocks look vulnerable to 5%-7% declines.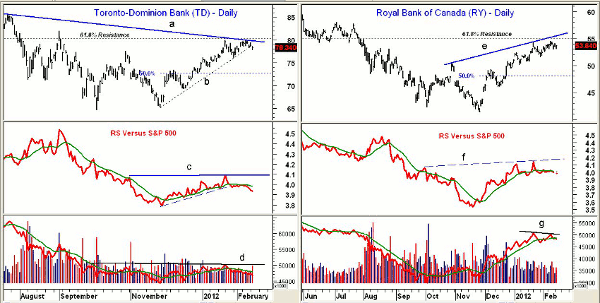 Click to Enlarge
Chart Analysis: Toronto-Dominion Bank (TD) is a $70.6 billion money center bank that was founded in 1855. It provides services in North America and internationally and pays a current yield of 3.4% ($2.70 annually).
TD hit a high of $89.79 in 2011 and a low last August of $64.56. The daily chart shows that TD is still below the major 61.8% Fibonacci resistance level at $80.15
The downtrend from the 2011 highs, line a, was tested last week before TD turned lower
The relative performance, or RS analysis, has not been impressive since it bottomed in November
The RS line failed to move through resistance (line c) and has dropped below support (dashed line) and its weighted moving average (WMA)
Volume was not impressive on the rally, and the on-balance volume (OBV) has stayed below its resistance at line d and been below its weighted moving average since January 26
TD has next support at $75-$76 with the 50% Fibonacci retracement support at $72.60
Royal Bank of Canada (RY) is a $77.2 billion money center bank that also has a long history, as it was founded in 1864. RY traded as high as $63.59 last April and currently yields 4% ($2.14 annually).
RY made its low on November 25 (Black Friday) at $41.40, but so far has failed to surpass the 61.8% Fibonacci retracement resistance at $55 with the high last week at $54.50
There is also trend line resistance at $55.50, line e
The daily RS analysis is still in a short-term uptrend but has started to flatten out. There is key resistance at line f
The OBV formed a short-term negative divergence, line g, last week. A drop below the January lows would confirm the divergence
A drop below $51.50 will further weaken the chart, which has additional support at $50
The 50% Fibonacci retracement support is at $48
NEXT: The Oldest of These Canadian Banks
|pagebreak|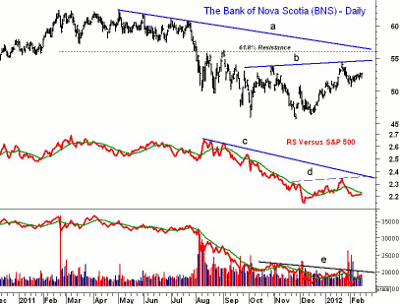 Click to Enlarge
Bank of Nova Scotia (BNS) is a $57 billion money center bank and the oldest of these three Canadian banks, as it was founded in 1834. The stock currently yields 3.9% ($2.04 annually).
From the early-2011 high of $62.33, BNS dropped as low as $41.79 during Thanksgiving week
The rally high of $54.51 (line b) on January 23 was well below the 61.8% Fibonacci retracement resistance at $56
The long-term downtrend, line a, is currently at $56.60
The RS analysis has deteriorated sharply over the past few weeks and has dropped below its weighted moving average. It is already close to the November lows
The RS line needs to move through resistance at line d to turn positive
The daily OBV has formed lower highs, line e, but is still barely above its weighted moving average
Initial support for BNS now stands at $51.70 with stronger support at $49.20-$50.20
What It Means: Investor interest in Canadian banks has weakened over the past years, as concerns over the nation's "hot" real estate market have grown. Debt levels are also increasing, and these two factors make these bank stocks vulnerable in the coming months.
Still, these dividends do seem secure, although they will look more attractive and increase given lower share prices.
How to Profit: For those who are long any of these stocks, I would consider using a covered call strategy to protect against a deeper decline (see also "The Basics of Writing Covered Calls").
Royal Bank of Canada (RY) looks the most attractive for new buying. Enter at $50.32 with a stop at $47.74 (risk of approx. 4.8%).