Wall Street's Dirty Little Secret
Focus: STRATEGIES
The truth is that no strategy comes without losses, and learning from losing trades and making adjustments is the key to long-term profitability. Here are four losing trades and lasting lessons from each.
Did you get the check for $17,856? I am amazed at the number of e-mails that I receive touting a "sure-fire" trading system, and there is always a common theme among these e-mails: "Never any losers!"
Just yesterday, I was offered the next winning "66 trades for free." Reading further, I was disappointed to learn that I would not double or triple my money on every trade. Why can't I just pay for those trades that would double, triple, or more?
I am hoping that only a small number of investors are naive enough to think that there is a financial analyst, newsletter writer, technical analyst, option hotline editor, or televangelist who has never had a losing trade and is more than happy to share his winning secrets.
This is Wall Street's dirty little secret, as successful investors and traders know that everyone has losing trades. I have often felt that some of the best learning experiences come from losers, and therefore, in the spirit of disclosure, I am going to review some of my losing recommendations from the past months to see if there is something that can be learned from them.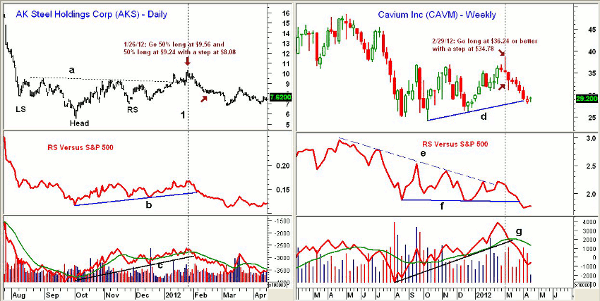 Click to Enlarge
Chart Analysis: On January 26, I discussed the overall bullish outlook for the stock market, and particularly the materials sector, which I though would benefit from additional strength in the US economy.
!--start-->!-->
---