Bank Stocks with Short Sellers on Lockdown
06/15/2012 1:15 pm EST
Focus: STOCKS
Though the technical outlook for big bank stocks remains negative, overzealous short selling has become overdone, and bears may soon fall victim to a painful short squeeze.
I have been chronically negative on big bank stocks, including Citigroup (C) and Bank of America (BAC), since last March's technical assessment (see "Big Banks Flunk Smell Test").
The testimony of JPMorgan Chase CEO Jamie Dimon early in the week as well as potential downgrades by Moody's have put the focus back on the US banking sector. Overnight, Moody's downgraded five Dutch banks and is expected to release new ratings for US banks in the near future.
Bank stocks were very strong early in the year, but by early April, they had clearly topped out. The selling continued in May, as most saw double-digit losses with Morgan Stanley (MS) and JPMorgan Chase (JPM) down over 25% for the month.
Recent data on short sellers indicates they are even more negative now on bank stocks, as short interest in Bank of America surged by 75%, or 100 million shares, in the latest reporting period. Now the question is whether this high degree of bearish sentiment means that those on the short side are about to get squeezed, and if so, should we be buying?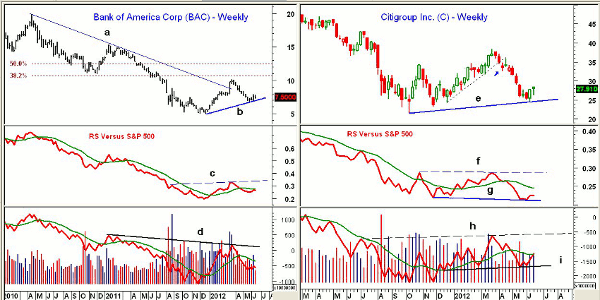 Click to Enlarge
Chart Analysis: The weekly chart of Bank of America (BAC) shows that it has been edging higher for the past three weeks after hitting a low of $6.72. The long-term downtrend, line a, was broken just before BAC topped out.
A break of the uptrend, line b, would signal a drop back to the lows in the $5-$5.80 area

Weekly relative performance, or RS analysis, has now rebounded back to its weighted moving average (WMA), but it needs to overcome key resistance at line c to complete a major bottom
Volume has been low since the surge in March, and the weekly on-balance volume (OBV) has been below its weighted moving average for the past seven weeks

The daily technical studies (not shown) are now slightly positive, and a close above $7.90-$8.00 should make the shorts nervous
Citigroup Inc. (C) has been even weaker than Bank of America, as C dropped to a low of $24.61 before the recent bounce. This week, it could close above the prior three-week highs, which would be a positive sign.
There is next resistance at $28.60 with more important resistance in the $30 area
Weekly RS analysis made lower lows in May, line g, which is a sign of weakness
The RS line needs to move above resistance at line f to signal that a low is in place
Weekly OBV has bounced from long-term support, line i, and is close to moving back above its weighted moving average
If the OBV is able to overcome its major resistance at line h, it would signal that a major bottom is in place
Daily OBV (not shown) is above its weighted moving average and formed a slight positive divergence at the recent lows
There is initial support now in the $25.80-$26.50 area
NEXT: More Bank Stocks with Short Sellers in Trouble
|pagebreak|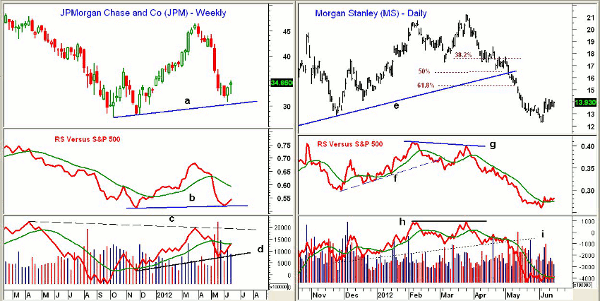 Click to Enlarge
JPMorgan Chase (JPM) has been strong this week and is up over 12% from last week's lows at $30.83. JPM had a high in March of $46.49.
The 32.8% Fibonacci retracement resistance is at $36.85
The RS line has turned up from last fall's lows, line b, but it is well below its declining weighted moving average
Weekly OBV has risen over the past two weeks and could move back above its weighted moving average this week
OBV has major resistance at line c with key support at line d
The daily indicators (not shown) are positive but are not yet signaling that an important low is in place
There is initial support now at $33.50-$34
Morgan Stanley (MS) has had a rough few months and is still down over 31% from the March 26 highs at $31.19. It is a good example of why Fibonacci retracement analysis can be used a good risk management tool.
The new highs in March were not confirmed by the technical studies, and therefore, those who were long should have identified the key Fibonacci support levels when determining their stops
From the October 2011 lows, the 38.2% support was at $17.53, which was violated on April 10. Those who used a stop under this level would have been stopped out
Basic Fibonacci retracement analysis indicates that once the 38.2% support was broken, the next target was the 50% support at $16.40, which was broken on May 3
This left the 61.8% support at $16.23, which was broken on the down-gap opening on May 11. Using a stop at either the 38.2% or 50% support would have saved buyers quite a bit, as MS had a recent low of $12.26
The uptrend in the daily RS analysis, line g, was broken in March, and it did not confirm the highs, line f. These combined to caution anyone who was long
The RS line is slightly above its weighted moving average but has not started a new uptrend
Daily OBV also formed a negative divergence at the highs, line h, and then broke important support (line i) in early May
Weekly OBV (not shown) still looks weak
There is minor price support now in the $12.80-$13.20 area
What It Means: Though there are no strong signals that these four big bank stocks have completed weekly bottom formations, the OBV analysis for Citigroup Inc. (C) and JPMorgan Chase (JPM) suggests those who are short these stocks are likely to get squeezed.
Though it is clearly possible that the lows are in place, the relative performance analysis does not indicate they are leading the S&P 500. Therefore, I have no recommendations for investors or traders at this time.
How to Profit: Traders should be on the lookout for a pullback to initial support, and if these banks retest their lows, I will be watching them closely for new opportunities.