Are Equity-Income Funds For You?
Focus: INCOME
With so many companies either declaring special dividends or moving up their ex-dividend date in an effort to beat the taxman should we go over the fiscal cliff, MoneyShow's Tom Aspray takes a look at top-performing equity-income funds, which can provide alternatives to investing in specific income-producing stocks.
The stampede out of dividend paying stocks started in the middle of October, and in hindsight, was probably the most accurate poll of how the election would turn out. The slide was well underway when Barron's cover story Best 25 Dividend Funds was released on November 5. The subscriber-only article discusses the recent popularity of these funds, ranks the top 25 by three-year returns, and interviews several of the managers.
For those who do not have the time or capital to invest in a group of income-producing stocks, these can be an attractive alternative. If you are confident about the overall direction of the stock market, they can be used as a diversified way to boost the return of your portfolio.
It is important that you do your research as the managers of these funds often employ quite different styles. Some mangers invest only in large caps, others favor mid caps and some look overseas. Morningstar.com is one of the best places to do your research as they provide a wealth of information for free and even more in their premium services.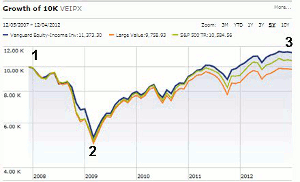 Click to Enlarge
It is important that if you are considering any of these funds that you look at their historical price volatility.
!--start-->
---