Eyes on Income: A Big Week for Rates?
07/29/2013 10:30 am EST
Focus: INCOME
At the start of a very busy week for the economic calendar, MoneyShow's Tom Aspray takes a technical look at interest rates and the bond market.
The FOMC, Bank of England, and the European Central Bank all meet this week, which may make jittery bond holders even more nervous. In addition, as I outlined in the Week Ahead column there is a full slate of economic data that could also move rates.
Many bond holders are likely dreading their July portfolio statements as many who bought bond funds were focused only on safety and yield. The prospect of significant capital losses was not a concern then, but is a real problem now for many.
The weekly bottom formation in T-bond yields outlined in the premier Eyes on Income column was completed before the end of May and pointed to higher yields. This formation took over 16 months to develop so rates could move higher for some time.
Of course markets and rates do not move straight up or straight down. There were signs in late June that rates had formed a short-term top but last week rates spiked so the yield on the 10-year T-note is still in its trading range. But this does not mean income investors should not take action, and there is one stock that I think should be added to the current Eyes on Income portfolio.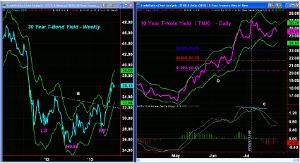 Click to Enlarge
Chart Analysis: The weekly chart of the 30-year T-bond yield shows a reverse head and shoulders bottom formation.
The 10-year T-note yield shows that the yield hit a low of 1.624% in early May before rising to a high of 2.725% on July 5.
NEXT PAGE: A Pick for the Eyes on Income Portfolio
|pagebreak|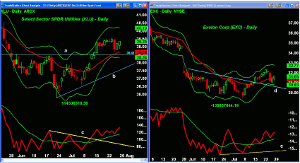 Click to Enlarge
The Select Sector SPDR Utility (XLU) hit a low of $35.80 on June 21 and closed last Friday at $39.35 as it has gained almost 10% from the low.
Exelon Corp. (EXC) is a $27.09 billion diversified utility company that has a current yield of 3.90%. Its dividend was reduced as part of its 2012 4th quarter earnings report. It has a current ratio of 1.12, which is positive regarding their dividend. The dividend cut was designed to spur future growth.
What it Means: The stock index futures are lower early Monday as is the dollar, and the Nikkei 225 was hit hard on Monday's session as well.
Rates are pretty much unchanged in early trading, but I am still looking for a further decline in rates over the near term but then higher yields longer term. There is still no conclusive technical indication of a change in the major downtrend.
A decline in yields will mean higher bond prices and give those whose bond commitment is too high a chance to reduce their exposure at better levels. If instead, yields close above 2.634%, it will indicate that the uptrend in yields has resumed.
Exelon Corp. (EXC), I think, is a good addition to the Eyes on Income portfolio (see below) if we get the right price.
How to Profit: For Exelon Corp. (EXC), buy $2,500 of EXC at $31.38 or better and $2,500 at $30.72 or better, with a stop at $29.66 (risk of approx. 4.5%).
Portfolio Update: Per the June 10 column, I recommended buying $2,500 of Select Sector SPDR Utilities (XLU) at $37.88 or better, and $2,500 at $37.04 or better, with a stop at $34.88. Use a stop now at $36.36. XLU paid a dividend of $0.3705 per share on June 21.
NEXT PAGE: The Eyes on Income Portfolio
|pagebreak|


Click to Enlarge