IBD 50's Top Four Losers
08/19/2013 10:15 am EST
Focus: STOCKS
The stock market faces additional headwinds as it attempts to break through recent highs and MoneyShow's Tom Aspray examines the technical evidence for insights into what's ahead.
The sharply lower weekly close in the major averages last week was consistent with the deterioration in the technical studies, especially the market internals. These indicators, as well as the OBV on key ETFs like the Spyder Trust (SPY) have now broken support and are below their declining WMAs. Most are also testing their daily starc - band so they are currently in a high-risk sell zone.
In Friday's market analysis, I noted that the technical formations typically favor a one- or two-day rebound this week, which will take the indicators and prices back to first resistance. The McClellan oscillator closed moderately oversold last Friday at -240, which also favors a bounce in the NYSE over the near term.
The Nasdaq 100 has recently been one of the strongest market averages and only dropped 1.3% last week. This was much better that the 2.1% loss in the Spyder Trust (SPY) but the highest flying stocks were hit even harder. The Investor's Business Daily average of 50 growth stocks or the IBD 50 lost 2.8% for the week.
A technical look at the four biggest losers in this index may give us some additional insight of what is likely to occur in the weeks ahead.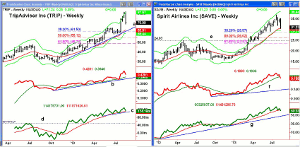 Click to Enlarge
Chart Analysis: TripAdvisor Inc. (TRIP) has a market capitalization of $10.51 billion as it was spun off from Expedia Inc. (EXPE) in 2011. Comments from its CEO last week regarding weak summer travel trends triggered some heavy selling.
Spirit Airlines Inc. (SAVE) has a market cap of $2.27 billion and has had a dramatic rally from the November 2012 low at $15.64.
NEXT PAGE: What It Means
|pagebreak|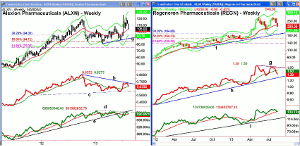 Click to Enlarge
Alexion Pharmaceuticals (ALXN) has been one of the powerhouses of the biotechnology sector as it is up 53% over the past three years versus 28% for the sector. It has a market cap of $20.43 billion.
Regeneron Pharmaceuticals (REGN) is another large ($22.57 billion) biotechnology company that is up 113% in the past three years. The high in July at $282.27 failed to surpass the May high of $283.99.
What It Means: The nervousness about the stock market makes those stocks with the most dramatic gains and the highest P/E ratios the most vulnerable. All four of these stocks are likely to move even lower in the coming weeks. Over the short term, a rebound is likely.
A test of their major 38.2% support is quite likely. Spirit Airlines Inc. (SAVE) and Alexion Pharmaceuticals (ALXN) could finally bottom out between the 38.2% and 50% support levels, which are often a high-probability entry level.
How to Profit: No new recommendation for now.