Get Ready to Ride the Rails This Fall
09/04/2013 10:50 am EST
Focus: STOCKS
An important part of the Dow Jones Transports are railroad stocks, writes MoneyShow's Tom Aspray, which may be the reason why he has been watching them so closely, as of late.
The Dow Jones Transports were up slightly more than the Dow Industrials Tuesday and, as I noted Monday, they have been stronger since the 2009 low, as well as, in 2013. Yesterday's action caused some slight improvement in the technical studies, so the overall market could again try to move higher.
A sharply lower close, on the other hand, will set the stage for a drop back to the August lows, which is likely to turn the market sentiment more negative. It will take a more sustainable rally, with much better A/D numbers, to suggest that the market's correction is over.
The railroad stocks are an important part of the Dow Transports, and the rail shipment of crude oil from the Bakken shale and other sources has given these stocks a boost, as commodity shipments have declined. The high crude oil prices are obviously a positive factor.
Therefore, the railroad stocks are one industry group that I have been watching closely, as they have corrected from their highs and are no reaching good support. These are three railroad stocks in particular that I am watching.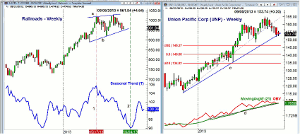 Click to Enlarge
Chart Analysis: The chart of the Railroad Index shows an apparent flag or continuation pattern, lines a and b.
Union Pacific (UNP) has been, as of so far in 2013, it is up over 24%. It peaked in late July at $165.18 and reached a low last week of $154.04. It has a current yield of 1.86%.
NEXT PAGE: What It Means:
|pagebreak|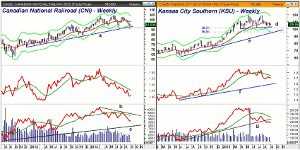 Click to Enlarge
Canadian Pacific Railroad (CNI) is expected to be one of the railroads that will benefit the most from the increased oil shipments by rail. It has a current yield of 1.68%.
Kansas City Southern (KSU) rallied in July to a high of $118.68, which was just below the May high of $118.88. It has a current yield of 0.77%.
What It Means: The daily technical studies on all three of these railroad stocks are still negative. They would take a couple of weeks to give new buy signals. This, combined with the negative weekly analysis, still favors the sidelines for now, but these stocks could lead the market into the end of year. Based on starc- band analysis, they are not nearly as oversold as the Dow stocks.
How To Profit: No new recommendation at this time.
Portfolio Update: The long position in the iShares Dow Jones Transportation (IYT) from $110.25 was stopped out with a small profit at $112.38.