September Pops & Drops
10/03/2013 10:25 am EST
Focus: STOCKS
It is easy to lose sight of the forest for the trees, so MoneyShow's Tom Aspray recommends reviewing your holdings regularly to make sure you have a game plan in case of large declines.
It was another rough opening for the stock market on Wednesday with the Dow trading down as much as 147 points before closing down just 58 points. The S&P 500 had a low of 1680.34 before closing at 1693.87. The September reading on the ISM Manufacturing Index at 56.9 was the highest in 29 months. This, combined with the news of the late meetings in Washington, helped support the stock market. The Comex gold futures also had a wide range of almost $50 before closing with the $34 gain.
The late buying is normally a positive sign for the markets, yet the declining stocks led the advancing, which has kept NYSE Advance/Decline within its recent trading range. On a short-term basis, a move in the Spyder Trust (SPY) above $170.65 will shift the focus to the upside while a break of $166.80 would be negative.
Between now and the debt ceiling deadline, the market is likely to remain choppy, therefore, it is important to protect your long positions with stops but they should not be too tight. There are quite a few stocks and industry groups that are acting quite well, like the homebuilders, which posted nice gains on Wednesday. They are likely to be market leaders once its major uptrend resumes.
In reviewing September's action, I would like to take a look at two of the recommendations that are currently working well and also at two recommendations that were stopped out.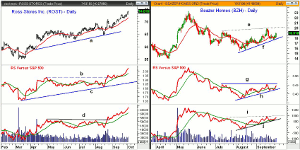 Click to Enlarge
Chart Analysis: Ross Stores Inc. (ROST) was recommended in late August and gained over 8% in September.
Beazer Homes (BZH) is part of the homebuilding group that I reviewed in depth last August.
NEXT PAGE: 2 September Drops
|pagebreak|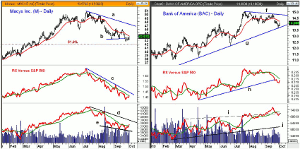 Click to Enlarge
Macy's Inc. (M) has been a favorite retail pick for many years but the apparent double bottom formation, line b, was broken on September 25.
Bank of America (BAC) was recommended in the middle of September as it appeared that the correction from the July high at $15.03 was over.
What it Means: The recommendation to buy Ross Stores Inc. (ROST) is a good example of how buying an overbought stock on a pullback can be a good strategy. One of the overbought stocks in yesterday's column 10 Overbought But Strong Dow Stocks has already hit its initial buy zone.
The homebuilding stocks and ETFs need a further rally to complete a bottom but they are acting positive.
As for Macy's Inc. (M), I was looking to buy in the 38.2% to 50% support zone, which is often a good strategy. The decline was more severe than I expected, but I sill think the stock will be higher by year-end.
The problem with Bank of America (BAC), in hindsight, was the entry level which was too high. Buying closer to where my stop was placed and being more patient would have been a better approach.
How to Profit: No new recommendation.
Portfolio Update: For Ross Stores, Inc. (ROST), now 50% long at $68.08 and 50% at $67.43, use a stop at $69.57.
For Beazer Homes USA (BZH), now 50% long at $17.91 and 50% long at $17.27. Raise the stop to $16.86 and sell 1/3 at $20.22 or better.
NEXT PAGE: The Charts in Play Portfolio
|pagebreak|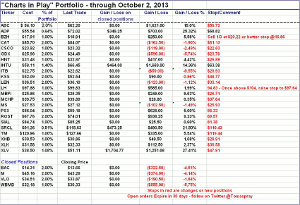 Click to Enlarge