One Pro's Mid-Year Picks
11/26/2013 10:35 am EST
Focus: STOCKS
MoneyShow's Tom Aspray takes a technical look at three mid-year picks of investment strategist Abby Joseph Cohen, and demonstrates why it doesn't make sense to have buy and hold recommendations for a fixed time period.
The mixed close in the major averages was not what the market needed to signal upward acceleration, as declining stocks led the advancing ones. The oil service stocks were hit the hardest, as the Philadelphia Oil Service Sector Index lost over 2%.
Many of the daily technical studies that turned higher last week have turned lower, after failing to make new highs with prices last week. A close below last week's lows in the Spyder Trust (SPY) at $177.98 is likely to trigger some heavier selling. It will be important to watch the market internals if stocks do drop further, as stronger sell signals could be generated.
Most of you are likely familiar with Barron's long standing Roundtable Panels, which are featured at the start and mid-way through the year. Stocks that are mentioned in the articles generally move higher initially, but how do they do in the next six months?
In today's column, I would like to take a technical look at the three mid-year picks of Abby Joseph Cohen (page 7), a well-known investment strategist from Goldman Sachs. At the start of the year, she was also bullish on stocks and skeptical on bonds. But first, let's look at the current market.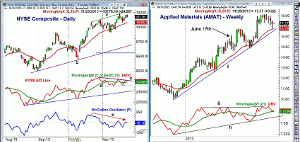 Click to Enlarge
Chart Analysis: The NYSE Composite made a new daily closing line last Friday at 10,205, with a new intra-day high Monday at 10,212.
Applied Materials (AMAT) was trading at $15.25 when it was recommended, and peaked that week at $16.09.
NEXT PAGE: Two More of Ms. Cohen's Picks
|pagebreak|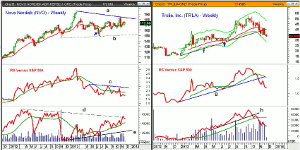 Click to Enlarge
Another pick of Ms. Cohen's was Novo Nordisk (NVO), a Denmark-based $92.2 billion drug manufacturer. It was trading at $167.75 when recommended, and is currently just a bit higher.
Trulia, Inc. (TRLA) was the last pick, as it is a $1.25 billion Internet provider of real estate information. It was trading at $29.35 when recommended.
What it Means: I always find it interesting to look back in time to analyze my own investment picks, as well as those of others. These three picks, in my opinion, illustrate that it is not reasonable to have buy and hold recommendations for a fixed time period like six months.
Within this framework, the interviewer could always ask when the analyst would sell, or what would make them change their opinion.
Trulia, Inc. (TRLA) was picked, in part, because, in the analyst's opinion, it was selling at a discount to Zillow, Inc. (Z). I have to think that sometime before or after it was up almost 80%, that it was no longer trading at a discount. Technically, it should have been sold, at least, around $42-$43. Very few successful analysts can allow an 80% winner to turn and get back to breakeven.
The starc band analysis also did warn of the top in Trulia, Inc. (TRLA) and yesterday's article pointed out some vulnerable S&P 500 stocks.
How to Profit: No new recommendation.