Is Dr. Copper Really Dr. Gloom?
03/18/2014 10:00 am EST
Focus: COMMODITIES
Copper has always served as a bellwether for the health of the global economy, but with its widespread use as loan collateral by Chinese companies, MoneyShow's Tom Aspray examines whether its traditional role still holds true.
The strong rally in global stock markets was not a surprise after last Thursday's 2.42 reading in the Arms Index .It signaled that the market was oversold on a short-term basis. The Dow Industrials led the S&P 500 while the oil service and semiconductor stocks were the strongest.
The market internals were pretty strong on Monday but another equally strong up day is needed to turn the short-term momentum positive. A weak rally with minimal price gains will make the market more vulnerable as we head into the end of the week.
Copper prices have dropped sharply in the past month as they have violated the 2013 lows. Some feel that copper prices are a good measure of the global economy but I see it as more of a short-term reading on China's economy. For signals on the US economy, I prefer the readings from the Leading Economic Indicator (see chart), which I think has a much better long-term record. We get the latest reading on the LEI on Thursday.
Looking at the technical and seasonal outlook for copper and two key copper stocks can give us an idea of how much lower copper prices might go.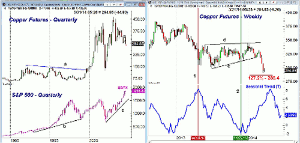 Click to Enlarge
Chart Analysis: The quarterly charts of copper futures and the S&P 500 go back to 1983.
The weekly chart shows the completion of a flag or continuation pattern in copper futures at the end of February as support at line e, was violated.
NEXT PAGE: 2 Key Copper Stocks to Watch
|pagebreak|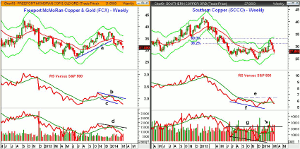 Click to Enlarge
Freeport-McMoRan Copper & Gold (FCX) broke its uptrend, line a, with its sharply lower close in the latter part of January.
Southern Copper (SCCO) is a $23.04 billion copper company that mines, explores, and smelts copper as well as other minerals in Peru, Mexico, and Chile. They recently reported an 11% decline in revenues compared to the previous year.
What It Means: Like the majority of futures markets, copper is quite volatile and speculators are often caught on the wrong side, which leads to sharp swings. Copper prices dropped over 4% last week and bullish sentiment is still too high to suggest that a bottom is forming and there is no technical evidence at this time.
For Freeport-McMoRan Copper & Gold (FCX) and Southern Copper (SCCO), it will be important that the most recent lows do hold.
How to Profit: No new recommendation