Market Punishes Earnings Misses
04/25/2014 10:30 am EST
Focus: STOCKS
MoneyShow's Tom Aspray takes a technical look at several stocks that have recently announced earnings to see whether their current weakness presents good buying opportunities.
It was one of those somewhat-rare days that the Dow Industrials closed unchanged for the day. The Dow Transportation Average was down 0.42% while the Nasdaq 100 gained just under 1% for the day. This, of course, was due in part to the 8% gain in Apple, Inc. (AAPL), but surprisingly the A/D ratios on the Nasdaq Composite were negative on the close.
For the NYSE Composite, the A/D ratios were flat and this has caused the McClellan oscillator to decline to +63 from + 116 last Tuesday. This could set the stage for a short-term pullback, though it is clearly an earnings-driven market and many eyes are on Amazon.com Inc. (AMZN), Starbucks Corp. (SBUX), and Microsoft Corp. (MSFT), which all beat their earnings estimates after the close. The new highs in the A/D line continue to favor an eventual upside move to stronger resistance.
Though beating estimates does not always guarantee higher stock prices, the market has not been very kind to those that report weaker-than-expected earnings. Even some stocks that beat analyst estimates have dropped sharply but does the current weakness present a buying opportunity in any of these three stocks?

Click to Enlarge
Chart Analysis: The beaten-down PowerShares QQQ Trust (QQQ), which tracks the Nasdaq 100, had nice gains as the highs from April 10 were finally overcome.
Core Laboratories (CLB) missed both on earnings and revenues, Thursday, as it closed down over 9% on the day.
NEXT PAGE: 1 Stock to Watch & 1 to Avoid
|pagebreak|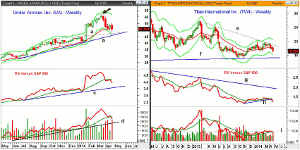 Click to Enlarge
Under Armour, Inc. (UA) reported a 50% jump in earnings and revenues rose 36%. The stock closed down 7.4% on the day but at one point was down over 10%.
Titan International Inc. (TWI) reported that its sales dropped 7% in the 1st quarter and gross profits fell 43.6%. The stock was down 8.5% on Thursday.
What It Means: Both Core Laboratories (CLB) and Under Armour, Inc. (UA) have positive long-term charts suggesting that the current decline could set up a good buying opportunity. The weekly reversals do make it likely that we could see several weeks before they are ready to turn higher.
On the other hand, Titan International Inc. (TWI) looks negative from both a weekly and daily perspective and should be avoided.
How to Profit: For the PowerShares QQQ Trust (QQQ), go 50% long at $86.88 or better and 50% long at $84.72, with a stop at $82.37 (risk of approx. 3.9%).