No One Loves the Banks, Should You?
08/18/2014 9:45 am EST
Focus: STOCKS
Those looking to buy stocks in some of the unloved industry groups may want to first determine if they are starting to become new market leaders before they buy, says MoneyShow's Tom Aspray.
Asian markets were mixed Monday but the buyers appear to have taken over as many of the Euro markets are up over 1% in early trading. The US futures are also acting strong in early trading.
After last week's action only the Nasdaq 100 A/D line was able to signal that the correction was over. All of the other major averages are now testing strong resistance levels with short-term support to watch at last Friday's lows.
The sentiment picture is mixed as-while the individual investors turned more bullish last week-there are signs that the institutional strategists and fund managers have turned more negative on stocks. They are recommending a relatively low commitment to stocks which, in the past, has correlated with stock market bottoms.
There is a full economic calendar this week culminating with the Fed Symposium at Jackson Hole on Friday where Fed Chair Janet Yellen and ECB President Mario Draghi are scheduled to speak.
If the stock market is close to completing its correction, which industry groups or sectors will lead the market higher? Some are looking to the money center or regional banks that offer higher yields that the 10-Year T-Notes but is now the time to buy?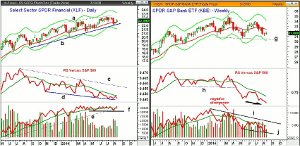 Click to Enlarge
Chart Analysis: The Select Sector Financials (XLF) has just slightly underperformed the Spyder Trust (SPY) over the past three months.
The SPDR S&P Bank ETF (KBE) has 70% of its assets in regional banks and is up only 1.94% over the past three months. It has a current yield of 1.45% with an expense ratio of 0.35%.
NEXT PAGE: Two More Bank Stocks to Watch
|pagebreak|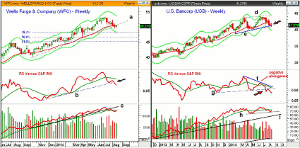 Click to Enlarge
Wells Fargo & Company (WFC) has closed below its uptrend, line a, for the past two weeks.
WFC outperformed the SPY by 5.8% YTD but is lagging over the past three months.
US Bancorp (USB) has been lagging the SPY all year as it is now up just 3.33% YTD and is down 4.7% in the past month.
What it Means: The weekly relative performance analysis of the financial sector and banks continues to indicate they will underperform the S&P 500. Though the weekly OBV does look better, there are no strong positive signals yet from the daily studies.
Wells Fargo & Company (WFC) has a current yield of 2.59% while US Bancorp (USB) yields a bit less at 2.27%. Both still have negative weekly and daily RS analysis which-in the current difficult market-outweighs the positive weekly OBV to buy for growth.
They are probably a reasonable yield play given the improvement in the overall market outlook.
Their dividends seem secure but one needs to risk to under the 1st quarter low for USB and the 2nd quarter low for WFC.
How to Profit: No new recommendation.