Will These Shorts Get Squeezed?
08/28/2014 10:15 am EST
Focus: STOCKS
The latest short interest data—which MoneyShow's Tom Aspray found quite interesting—was released on Tuesday, so Tom studies the charts of the four stocks that stood out to help traders decide whether the short positions will be rewarded by lower prices.
Stocks continued to edge higher Wednesday as pre-holiday volume remains low. The volume in the S&P futures was the lowest since just before the Memorial Day holiday. The futures are lower in early trading and are close to breaking below the lows of the past three days.
The analysis of the most recent Commitments of Traders (COT) data from John Person reveals that the small speculators are heavily on the long side of the futures. They historically are wrong on the markets so this is used as a contrary indicator.
The individual investors, according to the AAII, became even more bullish last week as 51.92% are now bullish, up from 46.11% last week. This is well above the long-term average of 39%.
The McClellan oscillator-which warned of the top in early August (The "Real Reason" for the Market's Plunge)-has formed a short-term negative divergence. This formation is consistent with a tired market while the positive intermediate-term signals suggest a correction will be a buying opportunity.
The latest short interest data was released on Tuesday and-as always-it's quite interesting. I have found that the Wall Street Journal presents the data in one of the most easy to use formats.
I look at not only the changes in short interest but also the days to cover or the short interest ratio. It is calculated by dividing the short interest by the average daily volume. In the latest data, four stocks stood out and looking at the charts can help one decide whether the short positions will be rewarded by lower prices.

Click to Enlarge
Chart Analysis: Rogers Communications (RCI) is a $21.08 billion Canadian wireless company that closed up 1.76% on Wednesday. The current yield for RCI is 4.3% but the lower current ratio of 0.45 suggests this large dividend may not be too safe.
Canadian Imperial Bank (CM) has a market capitalization of $38.56 billion with a yield of 4%. It just reported earnings this morning. Unlike RCI, CM has a very large amount of cash on its books and is up 15.75% YTD. It has a short interest ratio of 41.
NEXT PAGE: Two More Stocks with Short Positions to Watch
|pagebreak|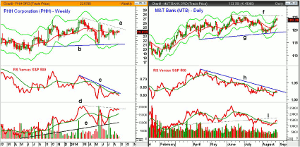 Click to Enlarge
PHH Corporation (PHH) is a $1.37 billion provider of outsourced mortgage and fleet management services. It has no yield with a short interest ratio of 33 as the number of shares short increased by 41.9% since the end of June.
M&T Bank Corporation (MTB) has a yield of 2.26% with a short interest ratio of 29. The stock is up 7.52% YTD and is very close to strong resistance, line f, in the $125.80 area.
What it Means: The short interest of a stock can often provide additional information when you are deciding whether to buy or sell a stock. Sometimes no information is provided. For example, Bitauto Holdings Ltd. (BITA) has a current ratio of 1.0 while it is just 1.11 for Facebook, Inc. (FB).
Trinity Industries, Inc. (TRN) was the only one of the four stocks discussed in Are IBD's Top Four Looking Toppy? that has a double-digit short interest ratio of 10.93.
It is important no matter whether you are trading a stock from the long or short side that you have a stop. Shorting a stock at all time highs, even if you are using options, can quickly destroy your portfolio.
Of the four stocks, PHH Corporation (PHH) appears to be the most vulnerable while Canadian Imperial Bank (CM) looks the strongest.
How to Profit: No new recommendation.
To learn more about the markets, you might enjoy Tom's Latest Trading Lessons.
A Top-Notch Tool for Market Timing