Signs Point to Possible EUR/USD Top
05/06/2011 6:00 am EST
Focus: FOREX
Technical factors and recent action by the European Central Bank (ECB) may spell the end of the furious rally we've seen play out in the EUR/USD currency pair.
The EUR/USD has been rallying for nearly a year, but the pair may finally test long-term resistance. Below you can see how the currency pair is near completion to point D in a bearish Gartley pattern.
This was the case even before Thursday's sharp drop (see additional comments after the charts):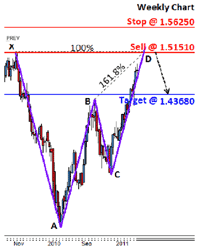 Click to Enlarge
Some may question going short after the pair has rallied straight up from C to D, but remember that the pair saw strong resistance after a nearly identical move (A to B).
The bearish Gartley pattern/double top has solid price symmetry, and so far, the time symmetry is nearly perfect. Although this is a long-term set-up, the trade idea could enter as soon as this weekend.
The monthly chart also gives an indication that a reversal may be near as the EUR/USD approaches the 78.6% Fibonacci level.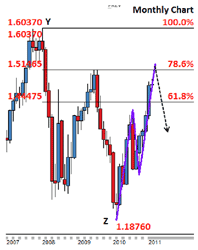 Click to Enlarge
Picking tops can be a dangerous game, especially when preceded by such a long and strong rally. However, when multiple indicators on multiple time frames begin saying the same thing, it's time to monitor the currency pair closely.
On the fundamental side, we may have already seen the beginning of this move.
See related video: Don't Forget the Fundamentals
European Central Bank (ECB) President Jean Claude Trichet left out the phrase "strong vigilance" from his prepared remarks at yesterday's press conference, triggering a massive profit-taking slide in the EUR/USD.
The pair tumbled nearly 200 points in the wake of President Trichet's statements, as markets pared back their expectations of near-term rate hikes from the ECB.
The ECB chief may introduce a more cautious note into his rhetoric and suggest that any further tightening—if it were to occur—would not take place until July, at the earliest. With markets primed for more rate hikes, such news could prove to be a disappointment, and the pair could see some profit taking as trading progresses.
The move by the ECB suggests that while European monetary officials remain focused on the inflationary pressures in the system, the near-parabolic rise in the EUR/USD, which rose to within a half cent of the 1.50 level this week, may be of greater concern to them at this time.
This move by the ECB was a clear attempt at cooling some of the speculative sentiment that has overtaken the pair in an effort to slow down the pace of its appreciation.
By Bradley W. Gareiss of FX360.com