Yen/Gold Ratio: A Window Into Japan
09/28/2011 6:00 am EST
Focus: FOREX
New ratio chart analysis shows troubling weakness in emerging market currencies but gives a surprising indication of Japanese yen strength.
The recent action in gold has helped confirm the yellow metal as a currency proxy, or safe haven, and also confirms the relative strength and weakness seen in individual currencies and perhaps economies.
Let's look at the two extremes: the Wisdom Tree Dreyfus Emerging Currency Fund (CEW) and the Currency Shares Japanese Yen Trust (FXY).
Emerging Market Currencies
Emerging market currencies, as tracked by CEW, have plummeted through the month of September, falling by nearly 10%.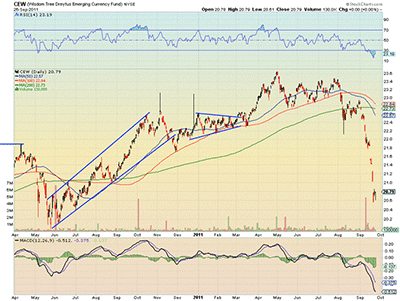 Click to Enlarge
Other than having a Relative Strength Index (RSI) reading under 25, CEW still looks ready for more downside as it settles into the consolidation area from May through June 2010 between 20.10 and 20.80.
Measuring the SPDR Gold Trust (GLD) against CEW also shows that GLD is holding up very well.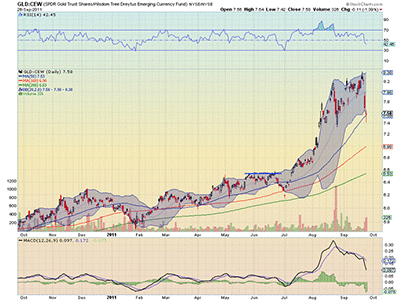 Click to Enlarge
It is the only currency that it is measured in that is above the 50-day simple moving average (SMA) and is just barely out of the Bollinger bands. The two charts confirm not only the weakness in emerging-market currencies directly, as well as against gold, but also the desire to retain exposure to gold relative to emerging-market currencies.
Weak currencies driving funds towards gold and holding even in a gold downturn is a message about perceived weakness in emerging-market economies.
NEXT: A Surprising Sign of Japanese Yen Strength
|pagebreak|
The Japanese Yen
At the other extreme, the Currency Shares Japanese Yen Trust (FXY) is showing its strength directly and against gold and GLD. With FXY bouncing along resistance at $129.40 and ready to burst through higher, the ratio chart of gold (via GLD) measured in yen (via FXY) shows the strongest flow from gold into the yen.
The ratio shows it well outside of the Bollinger bands and sitting just above the 200-day SMA near previous support.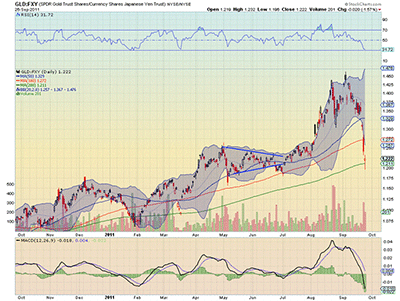 Click to Enlarge
FXY itself has rising SMAs and an RSI that has refused to turn bearish. A break higher could be a big indicator of the perceived relative strength of the Japanese economy.
See related: Get the Most Out of the RSI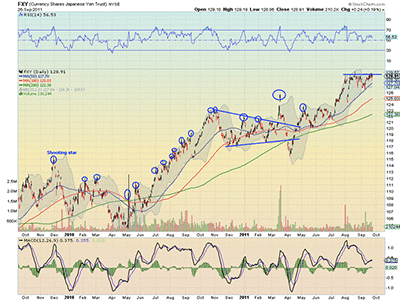 Click to Enlarge
Will this all reverse soon? FXY rejecting at resistance may signal the beginning of a new trend. Or perhaps the hammer on the ratio chart may confirm it first. But this set of charts is telling us that the world fears emerging economies in favor of the Japanese economy—not the US dollar or the Chinese yuan. A breakout higher by FXY would re-enforce that view.
The view from the pound sterling (GBP), euro (EUR), yuan (RMB), and US dollar (USD) all show these currencies in the middle of the road and doing nothing outstanding in terms of gold.
But is the Japanese economy, crippled by the tsunami and resulting nuclear crisis, ready to lead the world? I doubt it.
By Greg Harmon of Dragonfly Capital