Only One Signal Matters for Yen Traders
02/01/2012 6:00 am EST
Focus: FOREX
While bearish fundamentals continue to stack up against the yen, traders looking for a corresponding rally in the USD/JPY pair must look for a break of an important chart level before executing any trades.
The Japanese yen (JPY) received a lot press recently, and this time, it was not because of intervention or the threat of one. After three consecutive months of running a trade deficit, Japan posted a gap of JPY 2.49 trillion for 2011. That's unfamiliar territory for this country, which had a surplus every year since 1980.
See related: Always Bet Against Intervention
This was immediately blamed on the earthquake earlier in the year, which raised fuel imports while decreasing domestic production. As a result, only four of Japan's nuclear power plants are in operation, meaning that the country must purchase fossil fuels abroad in order to cover the energy cap.
Many think it is not a temporary situation and Japan will find itself in a trade deficit for years to come. With multinationals opening more factories abroad than they are at home, domestic production is not expected to increase, either.
These are strong fundamentals working against the yen, but there is more. A continued account deficit would spell trouble because it would mean the country cannot finance its huge public debt without overseas funds.
Currently, Japanese investors hold about 95% of Japan's government bonds, which lends some stability to an otherwise unsustainable debt burden. Once the nation starts raising money abroad on larger scale, many believe the yen will suffer.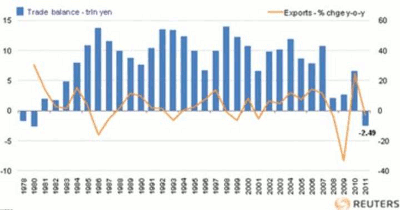 Click to Enlarge
However, the fundamentals of the Japanese yen have been weak for a long time now, yet it continues to at least hold its ground. While this will certainly catch up with this currency eventually, one should be prepared for a prolonged wait before that happens.
In order to short the JPY with more confidence, we would have to combine fundamental analysis with technicals, and those are simply not showing a reversal yet. Of particular interest should be a long-term chart of the USD/JPY, because we are talking about the main trend.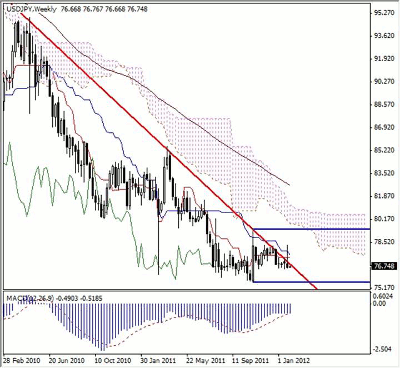 Click to Enlarge
While JPY deteriorated recently in relation to some currencies, the main chart on everybody's list is the USD/JPY. Here, we still see the price in a downtrend. It is consolidating now between 75.50 and 79.50, but this does not mean a reversal.
See related: Why Technical Traders Can't Ignore News
For the price to change direction, it must rise to at least above the latest resistance. With the USD/JPY very close to the all-time low, we could easily experience another spike down. Therefore, even though fundamentals are lining up against the Japanese yen, the technicals will not confirm it unless the price starts to test the 80.00 level.
See also: Intro to Trading the Japanese Yen
By Mike Kulej of FXMadness.com