Question What You Know About Forex
03/01/2012 6:00 am EST
Focus: FOREX
Sam Evans of Online Trading Academy explains how one trader stepped outside his realm, but then applied his usual sound trading strategy to find and execute a high-quality carry trade.
As many of the regular readers of these articles already know, I like to write about as many different aspects of currency trading as possible, from creating a rule-based strategy, aspects of technical analysis, supply and demand, psychology and more.
However, as I always tell anyone interested in gaining a firm grasp of the financial markets, there are many other factors and benefits which stem from an understanding of how and why prices move in any free market. Not only do we have the ability to generate a second income, build financial security, and create more time to do the things in life that we enjoy, we also start to recognize a variety of other opportunities around us which we may or may not have even considered before.
When you begin to truly understand the concepts of risk management and develop the ability to see low-risk, high-potential-reward opportunities before you, we can stack the odds in our favor to an even higher degree and learn to think outside the box like never before. Most of the time, it is even simpler than we first think, too. Let me explain.
See related: Forex Basics: Trading Currency Pairs
A few weeks ago, I was working at the London center of Online Trading Academy when a graduate dropped by to say hello as he was passing by. It turned out that I instantly recognized him from a forex class he took with me a couple of years before. Let's call him Tom.
I asked him what he had been up to lately and I was happy to hear that his trading was going very well. He has defined his strategy clearly, was working for a couple of hours a day and simply sticking to his plan. In fact, he could only spare just a few hours for his intraday trading, as he was still running his business and enjoying every minute of it.
I asked him if he was planning to give up the business and just focus on trading since he was making it work so well, but he smiled graciously and said no. Like me, he was one of those individuals who just enjoyed what he did and had no intention of stopping yet.
"Maybe in a few years," he said, but no way right now. Jovially, I asked Tom outright, "So, what are you planning on doing with all that extra money you are earning?" He smiled at me and said, "Well, here's the best bit Sam. I am using my forex trading skills to maximize my cash even further. It suddenly struck me that although I am British and residing here in the UK, why should I limit myself to thinking about my cash wealth as only being in British pounds? Just because I am living in Britain doesn't mean that I have to just stay pound-long, does it?"
Tom's statement made my day. Here was a student of the markets who was using his education to the maximum. You see, most of us have been conditioned to think a certain way. Maybe because our parents told us so or because of what we heard in school or read in the press. Now, there is nothing wrong with that, but there is also nothing wrong with challenging what you have been told to be true and seeking out alternative ways of doing things.
Just because everyone else does something one way doesn't automatically mean that you have to do it that way as well! So, would you like to know what Tom did to solve his long-pound dilemma? Well, please read on.
Let's first look at a chart of the GBP/AUD on a weekly time frame: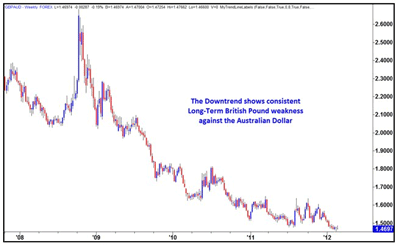 Click to Enlarge
The above example is a simple price chart of the currency pair in a consistent downtrend. From late 2008 until present, the pound has been weakening against the Australian dollar considerably. So, what does that mean for us, as it is unlikely that we are going to be trading off a weekly chart alone, right?
Tom noticed this weakness in the pound and increasing strength in the aussie and decided to take advantage of it. He had cash savings here in the UK sitting in the bank and earning a very poor interest rate of just 0.5%. However, the rates in Australia have been around the 4.25% mark for some time now.
Seeing this opportunity in holding aussie dollars for the dual benefit of both the increased rate of interest and the strength against the pound, Tom decided to transfer a lump of his cash savings into aussie dollars after setting up an Australian bank account.
He timed his transfer to this account using his understanding of market timing, which he had learned in the Online Trading Academy classroom. Look to the chart below, which has some simple analysis applied: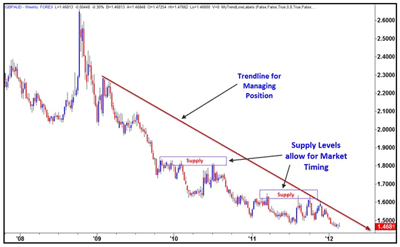 Click to Enlarge
Read the rest of this article at TradingAcademy.com.
By Sam Evans, instructor, Online Trading Academy