Elliott Wave Set-up in AUD/USD Pair
03/29/2012 9:20 am EST
Focus: CURRENCIES
Following a brief rally, Elliott Wave patterns now evident in the AUD/USD currency pair suggest that a selling opportunity may soon be presented, writes the Staff at ActionForex.com.
Despite falling again to 1.0336 late last week, the AUD/USD pair then rebounded from there, suggesting consolidation would be seen, and as long as this support holds, another bounce to last week's high of 1.0637 cannot be ruled out. However, renewed selling interest should emerge there and bring another decline later.
A break of said support would extend the fall from the 1.0857 top for a deeper correction of the recent up-move to 1.0260-1.0265 (50% Fibonacci retracement of 0.9664-1.0857), however, the near-term oversold condition should limit the downside to 1.0200 and bring a rebound later.
Wave 5 of C and (B) has possibly ended at 1.1081.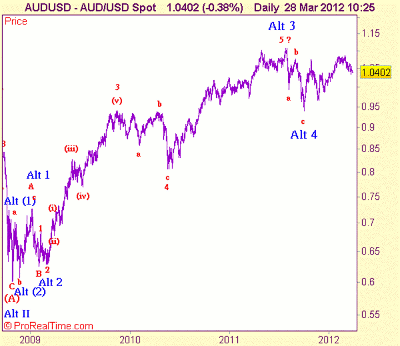 Click to Enlarge
Our preferred count is that the rally from 0.6007 to 0.7270 (Jan. 7, 2009) is marked as wave A, the retreat to 0.6248 (Feb. 2, 2009) is wave B, and the subsequent up-move is labeled as wave C with wave (iii) and wave (iv) ended at 0.8265 and 0.7700, respectively, and wave (v) as well as 3 ended at 0.9407. Wave 4 the ended at 0.8066 (instead of 0.8578).
The wave 5 has met our indicated projection target of 1.1060 and could end at 1.1081. A major A-B-C correction has commenced with A leg possibly ending at 0.9388, so wave B is now unfolding for a retracement of wave A and has already reached our indicated upside target at 1.0600.
The retreat from 1.0857 suggests a top is possibly formed, but a breach of 1.0200 is needed to confirm.
On the upside, a daily close above the 1.0670 resistance would risk a stronger rebound to 1.0740-1.0745, but price should falter below resistance at 1.0857 and bring further consolidation. A break of this level would signal the rise from 0.9388 is still in progress for a gain to 1.0900-1.0910, but we reckon 1.1000 would hold from here.
We are keeping our view that the major correction has commenced from 1.1081 with first A leg (a-b-c) ended at 0.9388, B leg should be limited to 1.1000, and as long as resistance at 1.1081 holds, the prospect of another decline in wave C remains.
Recommendation: Sell at 1.0630 for a move to 1.0400 with a stop above 1.0730.
By the Staff at ActionForex.com