Exploiting Opening Gaps in FX Trading
Focus: FOREX
Even though opening gaps rarely occur in the forex market, it is well worth it to be on a lookout for them, writes Mike Kulej of FXMadness.com, as they create good trading opportunities.
In most financial markets, gaps are important events and many trading concepts are built around them. We all heard about "continuation gaps" and "exhaustion gaps," as they are featured prominently in literature on technical analysis. Even many candlestick patterns, as originally developed, include the concept of price gaps. For example, the "abandoned baby," the "hammer," or the "hanging man" should have a gap on one side (or both) when applied on daily or weekly charts.
Unfortunately for forex traders, gaps are relatively rare. Due to the 24-nature of this market, the trading is continuous, thus not creating gaps. In the past years, currency futures provided a venue for this phenomenon, but that is no longer the case. These days even these instruments have extended sessions and the seamless environment simply eliminated trading gaps. The only time when these features form in forex is when the markets open after a weekend or a holiday. Of course, they do not always develop, but in those instances when the opening is dynamic, the gaps create good trading opportunities. Yesterday was a very good example of that.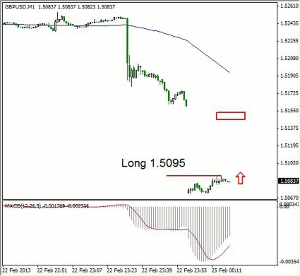 Click to Enlarge
In the last post, I mentioned the possibility of strong opening in the GBP pairs, potentially producing gaps.
---