Can the British Pound Find That Safety Net?
08/15/2014 9:00 am EST
Focus: CURRENCIES
Tom Cleveland on ForexTraders.com takes to the charts to review how the British pound— which enjoyed a steadily appreciating trend for ten whole months—finally fell from grace and is now scrambling to find a safety net. He also questions if there is even one to be had.
Up until a month ago, pound sterling had been the greatest gift that a forex trader could ever hope for—a steadily appreciating trend for ten whole months. Yes, there was a hiccup or two along the way, but there were more than a thousand worth of pips to offset any losses you might have had shorting the euro. But, as with the Perseid Meteor Shower that peaked Tuesday evening, shooting stars come and they go. Eventually, the forces of nature will have their way. Balance will be achieved. Consequently, the pound had to fall.
The fall from grace, however, has only amounted to just under 400 pips, nothing to carry on about like with Humpty Dumpty. At the moment, sterling seems stunned and searching for a safety net to block its further fall. If there is someone to blame, then the culprit must surely be Mark Carney, the presiding head of the Bank of England. Central bankers have a terrible time controlling what comes out of their mouths, especially when they perceive that their actions may have outperformed their colleagues in other nations.
At a social gathering in June and, perhaps, after a liberal dosage of liquid refreshments, Carney displayed a bit more exuberance than the occasion might have merited. He hinted—with a broad smile—that interest rates in the UK might rise in 2014, well before 2015, as the market had expected. His policies had worked, despite a looming housing bubble. Others had not. He was the winner. A coronation was in order. But, hubris is its own karma. A fall was predictable, and without stellar economic releases, the pound did fall.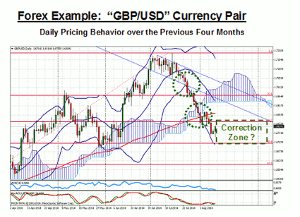 Click to Enlarge
As always, the question now is "What's next?" To some extent, a portion of the fall has been due to the recent resurgence of the US dollar. It, too, has been on a meteoric rise of late, climbing to the high end of its tight range. That index's range has been constrained between 79 and 81 since last September, but the greenback took off this past month, shattering all obstacles in its path.
As for the pound, the market is the real culprit. Speculators had built-in a series of interest rate increases that could never have happened. Softness in manufacturing and GDP growth estimates have revealed a weak underbelly that had yet to be exposed. The UK economy may actually be slowing down, rather than speeding up. No higher gears equates to no interest rate hikes, and then, "Pop! Goes the weasel."
The pound is hovering around 1.68 at the moment. Most analysts are expecting more down than up in the near term. The evidence for this conclusion is plentiful, as noted by the dashed green lines on the chart. First, Cable broke through the lower blue channel line and mean-value line of the Bollingers with ease. Second, it proceeded to drop through the Kumo Cloud and the 100-day EMA, but tested that support before moving on.
Lastly, the pound has now settled between the 38.2 and 50.0 Fibonacci lines of its last forceful upward trend, an area that is sometimes referred to as the Correction Zone. Pauses are common in this region. The result, after a bit of deliberation, is typically a demonstrative move in one direction or the other. There are no clues in the futures arena. Shorting the pound is not gaining popularity. There may even be a hint of support for a rebound.
The 1.67 line of support is key. A bounce up might then form the second shoulder of an H&S pattern, which would bring 1.62 into the picture.
By Tom Cleveland, Contributor, ForexTraders.com