Could Correlation with Collapsing Copper Kill AUD/USD?
01/15/2015 9:00 am EST
Focus: FOREX
Wednesday's severe drop in the price of copper is concerning, not just for the industrial metal itself, but also for the Australian dollar, so the staff at Forex.com examines how the currency is being impacted and how it may struggle to rally as its terms of trade continue to deteriorate.
Wednesday's big trading story is undoubtedly the staggering drop in the price of copper. After Wednesday's nearly 5% drop, the industrial metal is down over 14% already this year, building on the 16.6% plunge in 2014. This is particularly concerning because it is said that "Dr. Copper" has a PhD in global economics: due to its heavy usage in the industrial and manufacturing industries, copper tends to change course ahead of turning points in the global economy as a whole.
Only time will tell whether the recent drop in copper will bode ill for the global economy this time around, but there may be an immediate impact on the Australian dollar. The antipodean currency often moves in lockstep with copper, as evidenced by the 0.86 correlation coefficient between AUD/USD (using FXA as a proxy) and spot copper prices over the last 50 days. In fact, today's big drop would imply an AUD/USD exchange rate near .7500, over 600 pips below the current market price.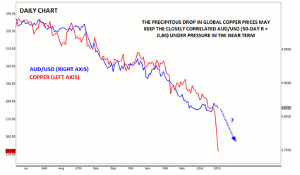 Source: Forex.com
Click to Enlarge
*NOTE: correlations can change and there are other factors beyond the price of copper that impact AUD/USD.
For now, AUD/USD may struggle to rally as its terms of trade continue to deteriorate. Turning our attention to the candlestick chart, the unit remains within its 1-month range between .8050 and .8200, so the near-term bias is still neutral. That said, if rates close below .8050 support, a continuation to sub-.8000 is likely. AUD/USD traders should keep a close eye on Wednesday night's AU Employment report (0:30 GMT, expected at +5.3k) as the next near-term catalyst.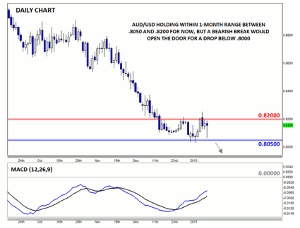 Source: Forex.com
Click to Enlarge
By the Staff at Forex.com