What Is an Outside Day Reversal?
09/17/2015 9:00 am EST
Focus: FOREX
Eamonn Sheridan, of ForexLive.com, shares a question-and-answer between him and a subscriber about outside day reversal, specifically in regards to this currency pair.
Can anyone give a brief about outside day reversal. EUR/JPY managed to close off from the lows. Will this still be considered outside day? Thanks. (From kk)
Eamonn's Response:
kk is asking about the daily EUR/JPY
This is a close up...he is referring to the second last candle (the one I have the arrow pointing at):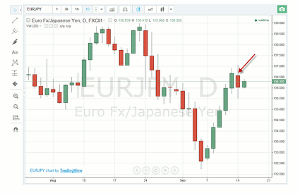 Click to Enlarge
Here's what I look for for an outside day reversal.
The outside reversal candle has to have:
A higher high than the previous candle
And a lower low
The outside reversal candle will be more convincing if the close is below the previous candle's close.
By Eamonn Sheridan, Chief Asia-Pacific Currency Analyst, ForexLive.com