Four Market Sectors Every Trader Should Monitor
10/29/2010 12:01 am EST
Focus: ETFS
Much like the economy, the stock market fluctuates in cycles over time. While the two are correlated to each other, they don't fluctuate in perfect unison. This is because the stock market is a forward-looking mechanism and is constantly attempting to price in the future economic landscape. While the disconnect varies, typically, the stock market will bottom well ahead of the end of a recession. Conversely, the stock market will always top out while the economy continues to chug along for a while longer.
Within these stock market cycles, there are also sector rotations that occur as market participants attempt to position themselves ahead of the larger market cycle. Market participants will rotate toward safety late in the economic expansion stage by moving into consumer staples and utilities. When a market is in its early bull stage, market participants will rotate toward stocks associated with an economic recovery, such as transports and consumer cyclicals. By monitoring these sectors, traders can be clued in to how institutions are positioning themselves and help increase the chances that they will be on the right side of the market when it moves. Plus, with the proliferation of ETFs currently available, it has become much easier to monitor specific sectors.
One early-cycle sector that traders should monitor is the transports. The group depends on a strong consumer and the need for goods to be shipped, which is associated with the early stages of an economic recovery. In looking at the iShares Dow Jones Transportation Average ETF (IYT), we can see that it has recovered the majority of its bear market decline. There was an area of stiff resistance near $70, but that was finally cleared earlier this year. Notice that IYT has been leading the general indexes, providing a solid indicator that the markets would follow. IYT is currently testing an important high. If it clears this, it could be headed toward all-time highs soon thereafter. However, the possibility for a pullback near this level is real; the key level to watch is the $70 area, which has been a major battleground for the index over the past two years.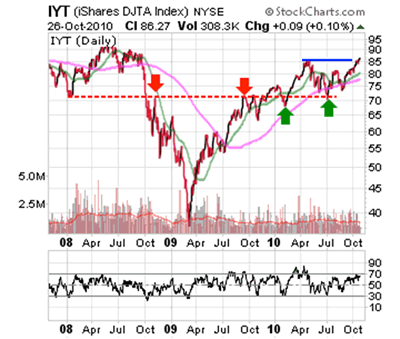 Click to Enlarge
The financials are another sector that should be monitored as an early cycle sector. The financials are responsible for lending during times of expansion, and their strength reveals demand for credit. However, due to the recent financial crisis, this sector has remained stagnant, and has been on of the key reasons for disbelief in the notion of a recovery. The Financial Select Sector SPDR ETF (XLF) has traded near the same price for almost two years after bottoming in 2009 along with the markets. While it appears that financial stocks avoided collapse, institutional money has not been flowing into this group. Eventually, this group will have to participate in order for the markets to begin a true recovery, and traders should carefully monitor this ETF as a proxy for the sector. At some point, XLF will clear the narrow range it has been trading in, a move that is likely to have a major impact on the general markets.

Click to Enlarge
NEXT: Two Other Sectors Traders Can't Afford to Ignore
|pagebreak|
The consumer cyclicals group is another sector that is associated with the early stages of a recovery market cycle. As consumers begin to see an improvement in their personal incomes, they typically begin to spend more money. The Consumer Discretionary Select Sector SPDR ETF (XLY) has already recouped the worst of its bear market decline, although it is still off its prior bull market highs. The $30 area was an area of importance, as it acted as support in 2008 before the bear market fully began. Once XLY cleared this level in 2010, it returned to acting as a support level. This will be the key area to monitor in case the markets begin to see extended weakness.

Click to Enlarge
The technology sector is another very important sector to monitor. During an expansion stage, companies begin to invest more on technology in order to grow. The Technology Select Sector SPDR ETF (XLK) is revealing that this group has been acting well. XLK rallied sharply from its bear market lows and has settled into a trading range between $21 and $24. It has started to set higher highs and is currently at new yearly highs. This group has been leading the way, and continued strength could easily push XLK above its prior bull market highs.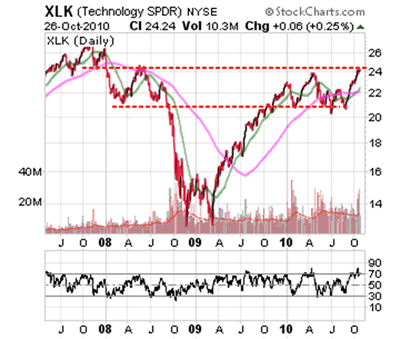 Click to Enlarge
Monitoring individual sectors can often provide valuable clues to a trader by providing a broad picture of investor sentiment. If institutional money is flowing toward early-cycle sectors, it reveals that institutions are preparing for an expansionary environment. Unfortunately, the picture really remains mixed at this point. The transports and technology stocks have been looking good, but the financials continue to weigh down the markets. Eventually, this group will break free of its current range, and ultimately either confirm the action in the other groups, or pull the markets down with them. As traders, we must simply monitor what the markets are telling us and adjust our overall thesis accordingly.
By Joey Fundora, trader and blogger, Downtowntrader.blogspot.com