Spot Early Signs of Trend Reversals
03/15/2011 1:01 am EST
Focus: STRATEGIES
Traders can capitalize on explosive short selling opportunities by identifying this particular pattern on the charts. Review past occurrences, and discover major market indexes where it may be unfolding next.
By David Grandey
One of the best change-in-trend patterns is the first thrust down short-sell pattern. The saying goes:
"First Thrust Down, Snapback Rally, Bombs Away"
Let's look at some examples. First up is Blue Coat Systems, Inc (BCSI)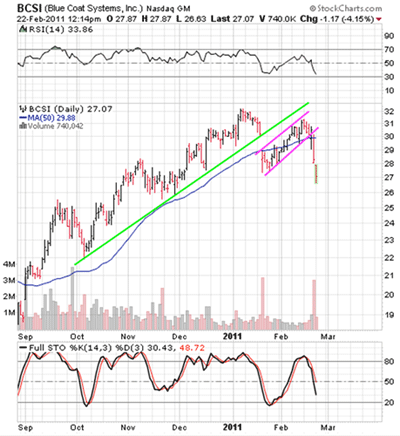 Click to Enlarge
In the chart above, we see a classic "first thrust down" and it then puts in a "bear channel snapback rally." Once it breaks the lower channel line, it's "bombs away!"
One catch with this one: The bombs away part was earnings related, but that's the pattern we want to see on the short side with names. Also, a true technician would say that it doesn't matter that the pattern was news driven; everything that is known is built into the price.
Next up is Silicon Laboratories, Inc. (SLAB).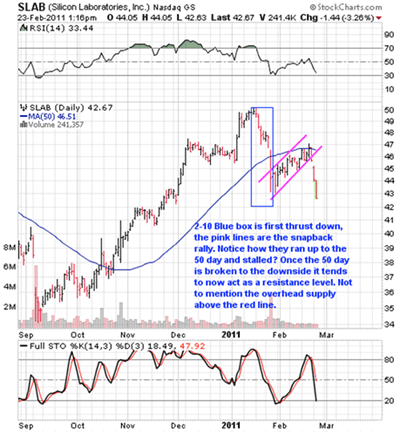 Click to Enlarge
The blue box is the "first thrust down" and the pink lines represent the snapback rally. Then it's bombs away.
In both cases, the short sell trade is initiated on a break to the downside out of the pink snapback rally channel.
Now let's look at the current indexes:

Click to Enlarge
In the S&P, you can see a break of the pink snapback rally (bear channel) that we've been highlighting. So could we keep going down here? I believe so, as we got the break below the channel line that would typically indicate we will head lower from this point.
The Nasdaq composite also shows an interesting "first thrust down" pattern: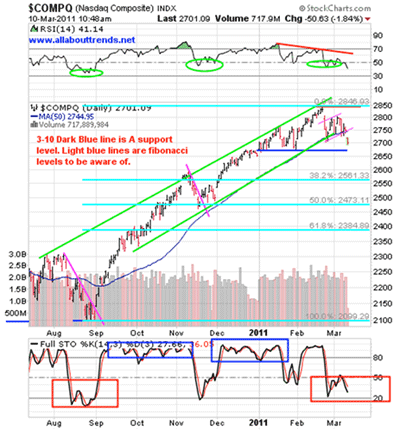 Click to Enlarge
We've laid out a dark blue line in the daily chart above that indicates an area of prior lows that will now act as support. If the Nasdaq breaks that area of support, aside from a Fibonacci line around 2580, there's not much support again until the 50% Fibonacci retracement area and prior low around 2480.
By David Grandey of AllAboutTrends.net