A Google Trade Revisited
05/12/2011 5:00 am EST
Focus: STOCKS
An earlier put-spread recommendation worked very well for those who followed it. Here, you'll learn what went to plan and what didn't.
By Greg Harmon
In early April, I posted a trade idea on MoneyShow.com to enter a May 555×545/525 1×2 ratio put spread on Google. The rationale for the trade and the strikes is in the link. I took the trade for an 80-cent credit and unwound the last piece of it today.
Like many trades, it did not go completely according to plan, but did return over 80% annualized on the margin used and $6 in real money. I will walk through the chronology of the trade here to illustrate how a real trade can evolve, and hopefully, make you more familiar with these types of trades. I have included a chart of the stock for the period covered for reference: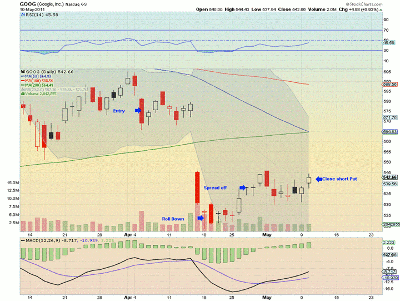 Click to Enlarge
April 5, 2011: Entered the trade by buying May 555 strike and selling May 535 strike and May 525 strike puts in a 1:1:1 ratio, creating the ratio spread for an 80-cent credit.
April 14: Google reported earnings after the bell and dropped like a rock. This was actually much faster than I had anticipated.
April 18: Worried about my downside naked 525 puts, and not wanting to own the stock now that it had fallen so rapidly, I rolled the trade to lower strikes, creating a 545/535 spread with a naked 505 put. I was able to do this for free and probably gave up some profit by both not doing it on April 15th and not just taking the spread off and then dealing with the naked put separately. But I accomplished my primary goal of reducing my risk of owning the stock. Real life.
April 27: When the stock started to rise, I took off the 545/535 spread for 5.65, leaving me with the naked 505 put.
May 10: Finally, I bought back the naked 505 May put for 45 cents. Could it expire worthless? Yes, and it probably will. But the added return on the margin and the risk of a downside correction led me to take it off, and I will sleep well having done so.
Net profit on the trade was $6 per ratio traded (80 cents, plus $5.65, less 45 cents) on margin used of $7,752 over five weeks, or a 80.50% annualized return.
Could it have been much higher? Absolutely, and I know some that did take the trade and made more. But I suspect that there are many more of you that did not take the trade, and I hope that this dissection will help you take the next one. It may be coming very soon.
Greg Harmon can be found at DragonflyCap.com.