A Gold Trade Contrarians Will Love
04/06/2012 6:00 am EST
Focus: STOCKS
A potential pivot low could be forming among unloved, underperforming gold mining stocks, advises David Banister, and willing traders looking to get in ahead of a rally phase might look to start scaling in soon.
Free Webinar: Specific Tips for Trading in Choppy Markets. RSVP now.
One of the most common questions I field from traders is, "Can we buy gold stocks yet?" We have seen gold consolidating and correcting following a 34-Fibonacci-month rally that I discussed last fall and predicted was going to top out around $1900 per ounce. This type of rally went from October 2008 to August 2011, and we saw gold rally from $680-$1900 per ounce during that time.
In order to work off the bullish sentiment that was at parabolic extremes, gold is required to spend a reasonable amount of time in relation to the prior 34-month move to wash out the sentiment and create a strong pivot bottom.
While this continues, the gold stock index has taken it on the chin, as money rotates out of gold and into other hot areas like technology and the Internet 2.0 social media boom. To boot, the Market Vectors Gold Miners ETF (GDX) peaked out last fall around $67 and currently trades below $47 at the time of this writing.
However, there may be a silver lining developing in those dark mining stock clouds very soon. It does appear that we are in the fifth and final wave of this pessimistic decline in gold stocks, as per my GDX chart below.
A typical bottoming pattern ends after five clear waves have taken place, and in this case, I have targets between $43 and $47 per GDX share to signal a likely pivot low in gold stocks. Contrarian investors may do well to begin picking the better names in the sector and "scaling in" over the next short period of time.
See related: How to Properly Scale Into Trades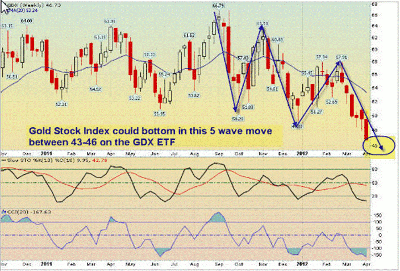 Click to Enlarge
Gold itself has recently corrected from $1793 per ounce to $1620 in the last several weeks. This has spooked the crowd out of gold and put further pressure on gold mining stocks as well.
Should gold hold the $1620 area and rebound past $1691, you will see the gold stocks take off just ahead of that, and from these $43-$46 levels on GDX, it will provide very strong returns to investors with iron stomachs.
The best way to make money long term in the market and grow your capital is to develop a method where you can define your risk levels within reason near the apex of a downside move, and then scale into that final apex and catch the rally on the upside.
This is difficult to do, but traders can develop a strong methodology that takes advantage of "herd behavioral characteristics" and takes advantage of typical panic buying and selling to do just the opposite.
I have not yet bought into the gold stock sector, but I assume fairly soon I will be dipping my toes in the water while others have all rushed out right near the apex lows.
By David Banister of Active Trading Partners