Are Elliott Waves Signaling a Rally?
11/13/2012 6:00 am EST
Focus: STRATEGIES
With the DJIA, S&P 500, gold, and several tech stocks displaying the classic Elliott Wave patterns, the staff at AllAboutTrends.net observe that a counter trend rally might be imminent.
The deeper we look into the market the more we see tons of Elliot Wave 5-waves down patterns out there. We've talked about this for weeks with regards to the bear count.
According to Elliott Wave theory, after the completion of a 5-waves down sequence it typically leads to a 3-waves up counter trend rally. Nothing new here for us as we've been touching upon that for a few weeks. For us? We'll use that strength to lighten the load on the long side and start to position ourselves on the short side but not until. The question is how far and how long will it go when it does and if it does?
That's always the issue with waves and trends, you never know how far they are going to go just that you are in them. The best one can do is to lay out support and resistance zones along with other tools of the technical trade such as moving averages and Fibonacci levels. Names like LNKD, IBM, GLD, and AMZN just to name a few.

Click to Enlarge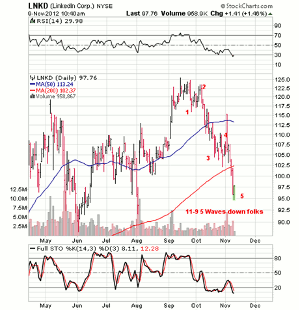 Click to Enlarge
Even IBM in a 60-minute time frequency shows this.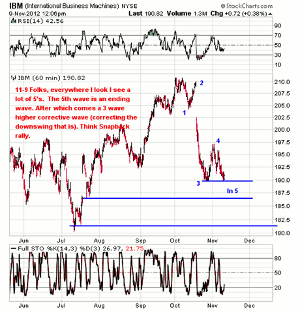 Click to Enlarge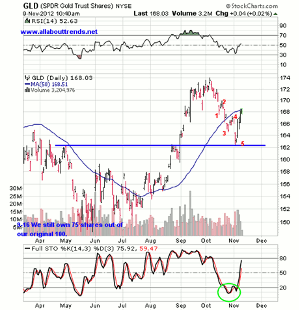 Click to Enlarge
With GLD, notice how it did not take off until it completed 5-waves down with a tag of a support level?
The indexes on the other hand are clearer when one looks at the S&P 500 and Dow Industrials. The NASDAQ Composite compliments of AAPL's big impact on that index tends to skew it. But AAPL? It's 5-waves down, too.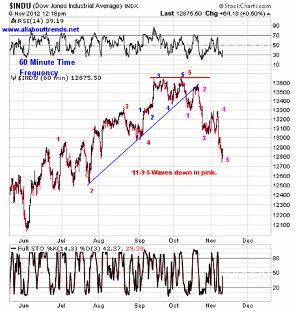 Click to Enlarge

Click to Enlarge
The coming days will see if these result in the typical 3-waves up counter trend rally.
By the Staff at AllAboutTrends.net