Price Action, Market Depth, and Volume Profile, Part 1
10/21/2014 6:00 am EST
Focus: STRATEGIES
Lee Leibfarth of PowerZone Trading shares Part One of his three-part series on price action, market depth, and volume profile. In this section, Lee takes a look at the relationship between support and resistance and the emotions of fear and greed.
Price action, market depth, and volume profile analysis can be extremely useful to traders because it shows not only the price and volume action that is happening now, but points to where a symbol is likely to be trading in the near future. This type of analysis can greatly improve your situational awareness in the markets and, consequently, your trading performance. Here, in the first of a three-part series, we take a look at price action.
Price Action
Support and resistance levels are formed by price action, the way the price moves throughout the trading session and over time for a particular trading instrument. Technical analysts use support and resistance zones to identify points where a pause or the reversal of a prevailing trend is likely to occur. Once an area of support or resistance has been identified, it can provide potential trade entry or exit points because, as price reaches a point of support or resistance, it will do one of two things: bounce back away from the level, or violate price and continue in its direction (see Figure 1). Whether price is halted or breaks through, traders can "bet" on the direction and quickly determine if they are correct. If price moves in the wrong direction, the position can be closed at a small loss. If price moves in the right direction, however, the move may be substantial.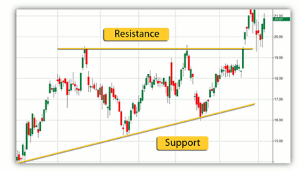 Click to Enlarge
Support and resistance are key tenets in technical analysis and the analysis of these two technical price levels forms the basis of many successful trading strategies. Support and resistance levels in the market are typically driven by human emotions and behavior. Fear and greed and herd instinct, for example, are terms that often come up when discussing the financial markets. This is because human emotions and behavior are largely responsible for price movements. In a way, price charts can be thought of as graphical representations of emotions like fear and greed, and optimism and pessimism, and human behavior such as herd instinct. Price charts, essentially, show us how market participants react to future expectations.
Fear and greed, for example, have a strong influence on support and resistance levels. As price falls back to a support level, the traders who are already long often add to positions to make more money; the traders who are short may buy to cover because they are afraid of losing money. Herd instinct is also demonstrated in this example as traders tend to congregate near (and further strengthen) these support and resistance levels, increasing the volume and creating high-volume nodes (seen in volume profile). Price action alone, however, does not provide a complete view of the short-term markets. This is where market depth and volume profile can enhance market analysis.
By Lee Leibfarth, Independent Trader and President, PowerZone Trading