Junk Bond Bust: The Fling Is Over
12/31/2015 6:00 am EST
Focus: FUNDS
Nico Isaac of ElliottWave.com thinks it's important to pay attention to the radical shift away from high yield debt because, as Nico puts it, "Finding out that the fling is over while your money is still tied up in funds…is far less preferable to preparing for the junk bond reversal when said fling was in full swing."
Warning: Butchery of a classic holiday song ahead.
"On the fourth day of Christmas, the financial marketplace gave to thee, four calling birds to hark the end of the junk bond jubilee."
A December 28 MarketWatch article writes:
"The junk bond debacle has income-hunting investors feeling like its 2008 again."
2008: As in, not a good year. As in, smack dab in the midst of the worst credit crisis since pretty much ever.
Here are the gory details: The global junk bond market is set to post its first annual loss in six years, as a tidal wave of corporate defaults and liquidation comes crashing onto the high yield asset shores.
According to Bloomberg,
"for every junk-bond issuer that had its rating boosted in 2015, two have been downgraded, a ratio not seen since 2009...Investors are finding out what happens when the fling is over and everyone wants their money back at once. A lot of them won't survive."
It goes without saying, finding out that the fling is over while your money is still tied up in funds that can't meet a sudden raft of redemptions is far less preferable to—say—preparing for the junk bond reversal when said fling was in full swing.
That wasn't so long ago, in fact. In mid-2014, France's telecom giant Numericable Group initiated the biggest ever junk bond offering of $11 billion. An April 22, 2014 Wall Street Journal praised the deal as "another milestone for the junk bond market. It shows how much the market is growing and…investors' ravenous appetite for risk in an era of low rates."
There to back up the widespread faith in junk's future are these 2014 news items:
"Over the past 25 years, high yield bonds have had similar returns to the major equity markets. If there's anything that should be junky, maybe it should be equities." (March 16, CNBC)
"Junk Bonds Are Back...It's time to stop viewing these investments as junk and start viewing them as simply one more opportunity…one with perhaps more risk, but hardly one giving signs that the herd is galloping toward the cliff." (June 2, Slate)
But while the mainstream experts applauded the newfound security of the great yield chase, our April 2014 Elliott Wave Financial Forecast foresaw an inevitable funk in junk's future:
"The chart above shows the BofA Merrill Lynch US High Yield Master II Spread, which is the spread between junk debt and US Treasuries of similar maturities. Currently at 3.66%, the spread is even narrower than it was at the 2007 stock market top. The total market value of speculative grade debt is about to top the $2 trillion mark, according to BofA Merrill Lynch Global High Yield Index.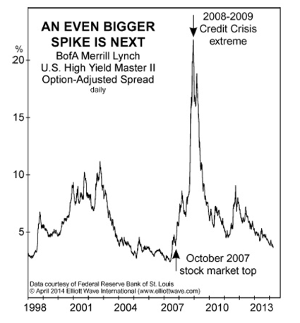 Click to Enlarge
"In August 2007, we cited the wide acceptance of these 'whistle-past-the-graveyard' loans as the 'set-up to the onset of a new conservatism that would drive the greatest credit crisis in history.'
"Now we have the set-up for an even larger crisis."
Flash ahead and our December 14 Financial Forecast's Short-Term Update plots the "flight from risk" that has since ensued:
"In January, [our Elliott Wave Financial Forecast]…added that 'the Barclays US Corporate High Yield Spread should rise to "8% or higher.'" On Friday, the spread lunged to a new high of 6.72% as shown on the chart. This is yet another sign that liquidity is drying up in the financial markets. So far, it's most detectable in high yield bonds...But the damage should soon spread to all sectors of the corporate and municipal bond markets...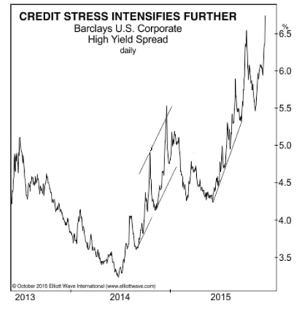 Click to Enlarge
"Lenders and borrowers have sleep walked into unmanageable debt burdens. As the economy weakens, it will become all too apparent that many cannot pay back what's owed."
Look around. The shift away from riskier assets doesn't end with the junk bond exodus…it begins with it. A new conservative movement has cut across the entire sloth of speculative assets, including IPOs, M&As, emerging markets, corporate buybacks, and on.
By Nico Isaac of ElliottWave.com