3 Materials Stocks with Good Chemistry
01/19/2012 4:08 pm EST
Focus: STOCKS
The materials sector has been showing leadership in the beginning of this young year. MoneyShow.com contributor Kate Stalter has found that some of the best sector performers hail from the chemical industry.
So far in January, the top performing sector in the S&P SmallCap 600 is materials, a sign of rotation from late 2011, when utilities claimed the top spot. I tend to check leading sectors to see which are good price gainers, and drill down from there for the best names within the sector.
One of the best names from the sector is Balchem (BCPC), a New York company that makes specialty additives for food producers and the medical industry.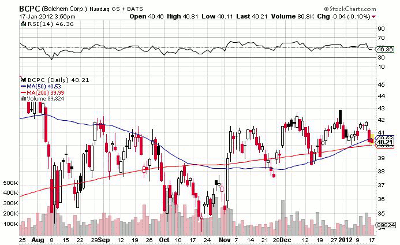 Click to Enlarge
The stock has been consolidating price gains since retreating from an all-time high in August. Its price action occurred simultaneously with the market downturn and volatility of last summer, and its price patterns essentially mirror those of the SPDR S&P 600 ETF (SLY).
Balchem still has some work to do before regaining its prior high. It's been trending along key moving averages, and the character of the trade has tightened up since the summer's extreme volatility.
The current consolidation has been prolonged, not a quick V-shaped pullback that quickly rebounded. It could be constructive that the stock has taken its time shaping its correction, as that is giving holders lacking in conviction plenty of time to consider their exit.
I also like this stock from a fundamental point of view. Analysts expect double-digit profit growth in the next two years, and the company has a solid return on equity of 20%.
Another index component, Stepan (SCL), tends to sport volatile chart action, but I'm encouraged by recent moving average support. The Illinois company, which was founded in the 1930s and has been publicly traded since the 1960s, rallied to an all-time high on 2012's first day of trading.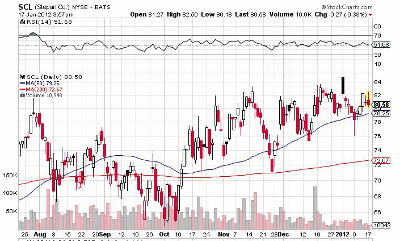 Click to Enlarge
It's since pulled back, slicing its 50-day line on January 9, but regaining some of its losses. It's now nestled above short-term averages.
The company, which makes chemicals for a range of industrial applications, has a market cap of $835 million and it trades only 32,000 shares a day. That lack of liquidity is a big factor in its volatility. The stock has a beta of 1.13, showing greater propensity to price swings than the broader market.
The company is due to report earnings on or around February 7, with Wall Street expecting income of $1.28 per share on revenue of $451 million.
For many investors, Stepan's dividend yield of 1.4% has been an attractive factor.
This company has some fundamental and technical factors in its favor, but the thin trade means it needs to be handled with care. It's prone to wide price swings, so it would require some patience to hold. However, it could be victim to a sudden sell-off if one large shareholder decides to exit.
One chemical maker that's not part of the index, but has also been rallying to new highs, is NewMarket (NEU). The Virginia-based company makes additives used in petroleum products. This is a mid-cap that trades about 65,000 shares a day—another thin stock.
NewMarket has been a growth winner in the past, and unlike many companies, did not suffer an earnings decline in 2009.
The company reports 2011's fourth quarter on February 2. It's seen earning $3.42 per share on revenue of $519.16 million. That would mark a year-over-year gain on the top line, but a decrease on the bottom-line. The company beat earnings estimates in each of the past four quarters.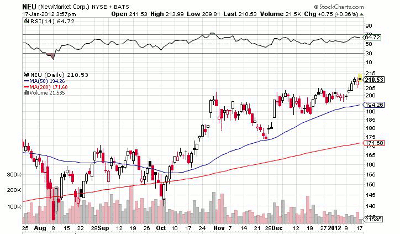 Click to Enlarge
While the fundamentals remain solid, there is an aspect of NewMarket's chart that concerns me. Since emerging from the bear market in early 2009, the stock has not paused long enough to undercut lows from a previous price consolidation. However, many stocks have exhibited similar action in the past three years as they've trended higher.
Similar to Balchem's consolidation, NewMarket's 2011 correction lasted several months, giving weak holders plenty of time to make an exit decision. In fact, since rebounding out of that consolidation in late October, the stock has received solid support along its ten-week average—a good indicator of investor confidence.
However, like many other stocks, NewMarket has seen some lower-than-ideal volume during its recent uptrend. It would bode well for the stock's future potential if more new money came in as the price rallied.
At the time of publication, Kate Stalter did not own positions in any of the investments mentioned in this column.
Related Reading: