4 Stocks for Health Food Fans
04/26/2012 8:02 am EST
Focus: STOCKS
Organic and natural foods aren't just for hippies and nutrition fanatics anymore. As healthy eating goes mainstream, several food producers and grocers are benefiting from that trend, writes MoneyShow.com contributor Kate Stalter.
I'm always tracking newborn stocksâ€"that is, recent IPOsâ€"for those showing the best combination of sales-driven earnings growth and price strength.
One recent IPO that skidded in Monday's market decline was Annie's (BNNY). The stock, which made its NYSE debut at $19 in late March, is now showing the typical post-IPO pullback that occurs in many new issues following the initial pop.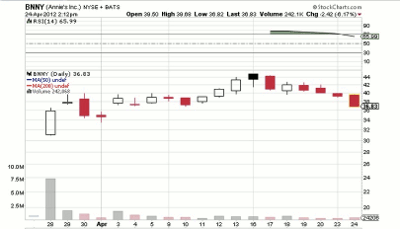 Click to Enlarge
News broke Tuesday that hedge-fund manager Steve Cohen had sold some of his stake in the company. It's not unusual for early investors to grab profits after a new stock's initial run-up, nor is it unusual for selling to beget further selling. The same is true with buying, as it happens.
However, despite Annie's slide on Tuesday, it remains one to watch.
This stock has generated quite a bit of attention in the mainstream media because its organic and natural products are popular with many young families. The company's mac and cheese is a hit with kids, and parents feel good about purchasing that product, vs. similar products from other manufacturers that may contain more preservatives and less healthful ingredients.
In addition, increasing consumer interest in organic and natural foods is likely to spur growth at the company.
I like to track new stocks, because they are frequently among the market's best price performers. The fundamentals on Annie's also landed the stock on my screens: Revenue growth has accelerated in the past couple of quarters. On a year-over-year basis, earnings growth could be more robust; however, it's not unusual for newly public companies to put their revenue back into growth.
Over time, I'd like to see the explosive levels of growth that the best price performers typically show. That is, year-over-year increases of about 20% or even higher. (The company has not yet announced the date of its next quarterly report.)
The stock is not a buy candidate at this time. First, the general market is in a downturn, creating selling pressure on most stocks. Second, the stock itself is retreating further from its April 16 intraday high of $45.
As I mentioned above, it's very typical for a new issue to rally in the weeks following the IPO, and then sell off. It's too soon to say what the next buy point may be.
Potentially, it could occur as the stock clears that previous high price of $45, but depending on how the consolidation takes shape, an entry point could arrive sooner. I will be monitoring Annie's as it consolidates, and will likely be updating it here in the months ahead.
Another company that's benefiting from growing demand for organic and natural foods is The Fresh Market (TFM), also a fairly recent IPO. The stock went public at $22 in November 2010.

Click to Enlarge
The grocer's stock has had a rocky road, and was not helped by the general market decline in the summer of 2011. However, it cleared its prior high of $46.85 in January, and gradually rallied to a new peak of $54.57 on April 20.
It pulled back to its ten-week moving average twice along the way, getting solid support at that key price line. That is a bullish technical sign, showing that institutional investors are stepping in to bolster existing positions. That signals ongoing confidence in the company and the stock's prospects.
The Fresh Market is expected to report its first quarter on or around June 4. Analysts currently expect earnings per share of 36 cents per share, which would be a gain of 20% from the year-ago quarter. Revenue is expected to come in at $310.52 million, an increase of 9%.
I like this stock's technicals, but here, too, I would refrain from buying at this juncture. General market action is the key determinant behind my decision. The stock is off that $54.57 high, and as of mid-session Tuesday, was hovering between its ten-day and 20-day averages.
I would like to see continued moving average support as a potential set-up for the next buy opportunity. That point could be $54.57; however, an earlier point could present itself, depending on how it goes on to consolidate.
Some older, more established companies are also beneficiaries of the natural foods trend. Hain Celestial (HAIN) is up 22% so far in 2012, and has rallied along its ten-week line to a new high of $47.42 on April 20.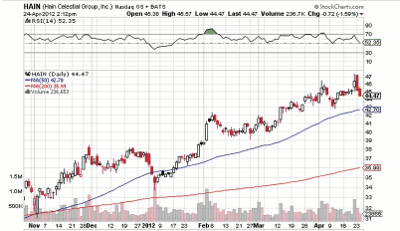 Click to Enlarge
It's currently in buy range, getting support at its 20-day average, but in a market that has been inclined to weakness lately, I would prefer to wait for it to regain the prior high before entering a position.
Meanwhile, Whole Foods Market (WFM) has been consolidating in an essentially flat pattern along its ten-week line.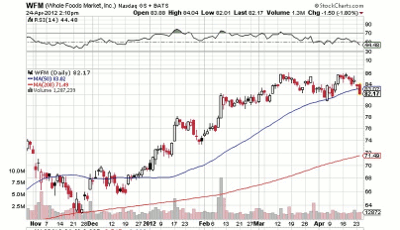 Click to Enlarge
Here, too, the stock could be offering a bullish set-up ahead of its May 2 earnings report. Despite the recent pullback, Whole Foods is up nearly 18% year-to-date.
At the time of publication, Kate Stalter did not own positions in any of the stocks mentioned in this article.
Related Reading: