4 Stocks for Health Food Fans
Focus: STOCKS
Organic and natural foods aren't just for hippies and nutrition fanatics anymore. As healthy eating goes mainstream, several food producers and grocers are benefiting from that trend, writes MoneyShow.com contributor Kate Stalter.
I'm always tracking newborn stocksâ€"that is, recent IPOsâ€"for those showing the best combination of sales-driven earnings growth and price strength.
One recent IPO that skidded in Monday's market decline was Annie's (BNNY). The stock, which made its NYSE debut at $19 in late March, is now showing the typical post-IPO pullback that occurs in many new issues following the initial pop.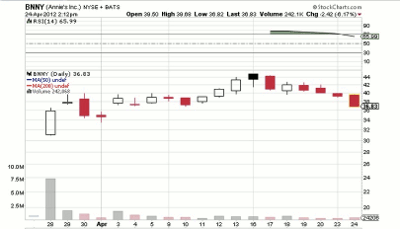 Click to Enlarge
News broke Tuesday that hedge-fund manager Steve Cohen had sold some of his stake in the company. It's not unusual for early investors to grab profits after a new stock's initial run-up, nor is it unusual for selling to beget further selling. The same is true with buying, as it happens.
However, despite Annie's slide on Tuesday, it remains one to watch.
This stock has generated quite a bit of attention in the mainstream media because its organic and natural products are popular with many young families. The company's mac and cheese is a hit with kids, and parents feel good about purchasing that product, vs. similar products from other manufacturers that may contain more preservatives and less healthful ingredients.
In addition, increasing consumer interest in organic and natural foods is likely to spur growth at the company.
I like to track new stocks, because they are frequently among the market's best price performers.
!--start-->