4 Leisure Plays with Strong Chart Action
05/17/2012 11:00 am EST
Focus: STOCKS
Leisure products continue to sell well, despite a weak economy and pressure on consumer earnings. Here are four sporting-goods and leisure-related stocks that have been fundamental and technical outperformers, writes MoneyShow contributor Kate Stalter.
Anybody trying to guess where cash-strapped consumers are spending money would probably expect that shopping sprees would be limited to the very basic food, clothing, and shelter needs.
However, some small- and mid-cap names from the leisure products category have been showing good sales growth, and have stock charts that reflect this fundamental strength.
All-terrain vehicle maker Polaris (PII) has been showing technical performance superior to the broader market. The company has also posted hefty sales and earnings gains in recent quarters.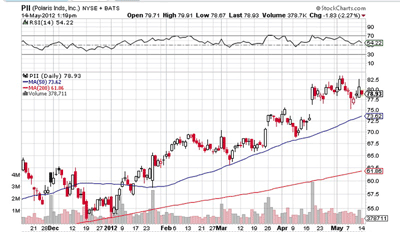 Click to Enlarge
Polaris has been a leader in the discretionary spending category for much of this year, notching a year-to-date gain of nearly 42%, as of Monday. Revenue has grown at a rate of 25% in every quarter during the past two years, and earnings have increased at rates of 15% or more in that time.
The stock is currently holding nicely above its ten-day moving average—resisting the wider market pullback, so far. The stock posted tight closes for the past three weeks, a sign that institutional investors have been confident about holding shares near $80.
With the market in a downtrend, I'm not eyeing a specific buy point at this juncture. Instead, I'm continuing to watch how the stock consolidates, considering it a watch-list name.
However, fellow ATV maker Arctic Cat (ACAT), which had been trading in a tight range prior to its fourth-quarter report early Tuesday, drove off a cliff on news that it guided fiscal 2013 below analysts' views. It plunged 17% to $35.08 following the earnings announcement.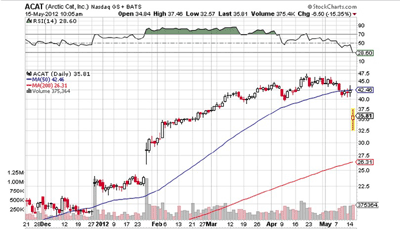 Click to Enlarge
The stock was trading between its 50-day and 200-day moving averages, taking it way out of buy range. If it continues to get support above the 200-day, and can muster up some strength to rebound, it may yet re-emerge as a watch-list candidate in the coming weeks or months.
Polaris gapped down about 1.6%, to $76.91, perhaps as traders expressed doubts about the entire ATV business segment. However, Polaris remained solidly above its 50-day line.
Elsewhere in the leisure-products universe, retailer Hibbett Sports (HIBB) is on deck to deliver first-quarter results ahead of the bell on Friday. Analysts have pegged income at 92 cents a share on revenue of $226.02 million. The company topped earnings views in each of the past four quarters.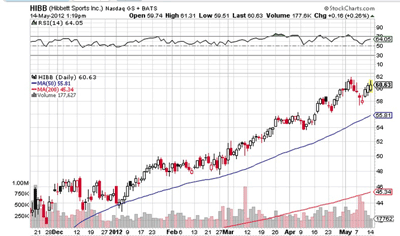 Click to Enlarge
The stock has essentially defied the general market downturn, pulling back only slightly from its May 3 all-time high of $61.93. It fell only as far as its 20-day moving average before beginning to rebound. As of mid-session Monday, it had regained its ten-day line.
In a bull market, a potential buy point could occur above $61.93, but a couple of things would preclude me from entering a position at this point. First, I avoid making new buys ahead of a company's earnings. It's too easy for institutional investors and traders to smack down a stock if there is something—anything—in the report they deem disappointing.
Second, with the broader market clearly under selling pressure, there's added risk to any trade, even when it comes to price leaders. A fresh bout of heavy-volume selling would threaten to pull down any and all stocks at this time, so it's a better strategy to hold off on new buys until a new market uptrend is confirmed.
Finally, sporting-goods retailer Cabela's (CAB) has been consolidating in a tight range just below its ten-week moving average. The stock had a volatile day of trading on April 26, following a first-quarter earnings beat. However, the company said Internet orders slowed in the quarter—an example of a stock being punished for some negative news.

Click to Enlarge
The stock fell as much as 13% intraday, before regaining some lost ground to finish with a session loss of $2.11, down 5.2%, to $38.69. Underscoring the volatility in that session, the stock also rallied to an all-time high of $41.61.
Since then, the stock has retreated further from its April 26 closing price, and as of Monday, was getting support between $36 and $37.
In addition to some post-earnings selling, market weakness is likely weighing on the stock. The consolidation is fairly orderly, so far, with fairly tight closes as the stock has bounced along the bottom. Of course, that could change, but as of Monday, nothing about the pullback was alarming.
Tight closes as a stock forms the bottom of a consolidation can signal bullish sentiment about a stock, and can be a signal that further price gains are ahead. The tight closes mean that professional investors are holding shares at that level, rather than bailing out en masse.
It's premature to say where the next technical buy point may occur. Depending on how the consolidation plays out, and how the general market acts in the coming weeks, a buy opportunity could present itself before the stock clears its previous high of $41.61.
At the time of publication, Kate Stalter did not own positions in any of the stocks mentioned in this column.
Related Reading:
https://www.moneyshow.com/articles/DailyGuru-25574/5-Small-Caps-with-Growth-Potential/
https://www.moneyshow.com/articles/GURU-27701/the-week-ahead--How-Low-Will-Stocks-Go?/
https://www.moneyshow.com/articles/Charts09-27650/3-High-Risk-Shorts-from-a-Hot-Sector/