3 Discounters with Strong Chart Action
07/19/2012 9:00 am EST
Focus: STOCKS
If the economy continues to falter, discount retailers are likely to continue attracting customers. Some of these companies are showing solid sales and earnings growth, along with promising technicals, writes MoneyShow's Kate Stalter.
Though Monday's retail-sales numbers were disappointing, plenty of fund managers and advisors continue to have confidence in certain sectors of retail. In particular, discounters continue to be in favor.
As has been widely reported in the financial media, DJIA component Wal-Mart (WMT) rallied to an all-time high last week. Target (TGT), which is often evaluated alongside Wal-Mart even though the customer bases are not necessarily identical, is trading at its best levels since October 2007.
But some of the "deeper discount" stores that cater mainly to lower-income customers are also in rally mode. Dollar General (DG) is pulling back in a gradual, orderly manner after its July 10 all-time high of $56.04. It closed Monday just above its five-day exponential moving average.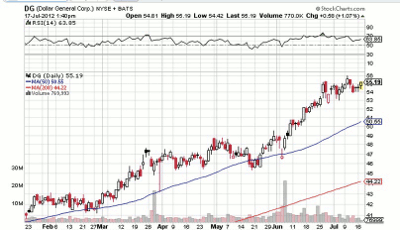 Click to Enlarge
The company has reported double-digit revenue growth in seven of the past eight quarters. Earnings grew at rates of 14% or more in the past eight quarters.
This falls into the category of newly public company, having made its NYSE debut in November 2009, when private-equity firm Kohlberg Kravis Roberts (KKR) sold its shares.
Right now, the stock is still a bit frothy, and needs some time to consolidate. In addition, selling pressures remain throughout the major indices, despite Friday's upside moves—which, incidentally, occurred on low volume.
The weekly chart shows that the stock has been essentially range-bound since late June, holding above a July 5 interim low of $53.02. It's trading about 8% above its 50-day moving average.
Analysts see Dollar General earning $2.81 per share this year, up 19%.
A similar business trading near its peak is Dollar Tree (DLTR), which closed Monday at $52.51, 0.1% below its five-day line, and 7.6% below its June 20 high of $56.82.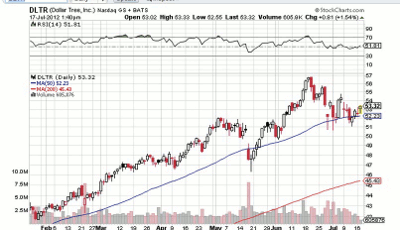 Click to Enlarge
The weekly chart shows that the stock is finding support near its ten-week moving average. That's often a good technical entry point, provided the general market is in a confirmed uptrend.
The revenue performance, in terms of growth rates, has been similar to that of Dollar General. The company is seen earning $2.48 per share this year, up 23% over 2011.
Family Dollar (FDO), another company from the discount retail sub-sector, has been forming a sloppier consolidation than some of its industry peers, but still has some potential.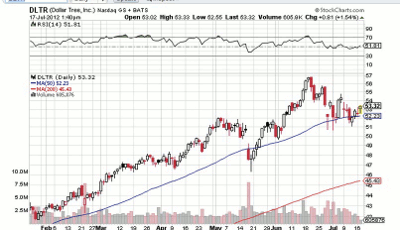 Click to Enlarge
It's trading just below its ten-week average, down 8.6% from its June 14 high of $74.73. If it continues to hold somewhere in the vicinity of that key price line, that would be a bullish sign, indicating further technical potential for the stock.
Even with the current pullback, Family Dollar is up more than 18% year-to-date.
Though I track stocks that rally during times of market weakness, I don't dismiss a name that's consolidating or basing when the indices are also correcting, or showing volatility.
When a solid market uptrend is confirmed, the majority of price leaders hail from the ranks of stocks that pulled back along with the market in the previous correction. In other words, stocks correcting in tandem with the averages often emerge as leaders in a fresh market-wide rally.
Finally, I wanted to mention another discount retailer that's scheduled to go public this week. Five Below is a Philadelphia-based company that operates stores targeting teens and pre-teens. Merchandise is priced between $1 and $5.
The company is expecting to raise $154 million in an offering of 9.6 million shares, priced between $15 and $17 apiece. On Tuesday, it increased the deal size. The previous price range had been $12 to $14 per share. That upsizing indicates strong demand for the offering.
Another indication of the stock's potential is that some of the heavy-hitter variety of underwriters are behind the offering. Lead managers are Goldman Sachs (GS), Barclays (BCS), and Jefferies. The company reported $322 million in revenue for the 12 months ended on April 28.
The stock is slated to list on the Nasdaq under the ticker FIVE.
At the time of publication, Kate Stalter did not own positions in any of the stocks mentioned in this column.
Related Reading: