ETF at the Best Level in Eight Years
08/17/2015 11:10 am EST
Focus: REAL ESTATE
Matt McCall of Penn Financial Group points out that investing in this ETF is great way to capture the entire US home construction sector. However, Matt explains that there's also a stock that is a small-cap flying under the radar.
As the S&P 500 (SPY) (SPX) struggles to make any headway this year, there has been a sector that has quietly outperformed the overall market. The iShares Dow Jones US Home Construction ETF (ITB) has gained 11% in 2015 and finished last week at the best level in eight years versus a gain of 1.5% for the S&P 500.
The outperformance is probably a surprise to most investors as Wall Street has been questioning the housing rebound for years and continues to call for another bubble. The housing related stocks are a great example of a bull market that has been climbing a wall of worry.
That being said, why worry when the recent numbers have been pointing to a solid housing market. Last month, existing home sales rose by 3.2% month-over month at an annualized pace of 5.49 million homes; the fastest pace since early 2007. New housing starts rose 9.8% to an annualized pace of 1.174 million homes. Finally, last week's July retail sales report from the government showed the building materials and furniture and home furnishing stores were two of the strongest sectors.
Investing in ITB is great way to capture the entire sector. However, for investors willing to think outside the box, there is a stock that is a small-cap flying under the radar.
Ply Gem Holdings (PGEM) is a manufacturer and distributor of both residential and commercial exterior building products in the US and Canada. Their products consist of doors, windows, siding, stone, fencing, etc. Whether it is new homes being built or existing homes being remodeled, PGEM is a winner in both scenarios.
Fundamentally, the stock is extremely attractive based on future earnings potential. The company is expected to earn $0.41 this year after losing $0.70 just two years ago. By 2017, the earnings per share is expected to increase over four-fold to $1.85. If the stock were to trade at 15 times its expected 2017 earnings, it would be at $27.75 per share, a nearly 100% gain from Friday's closing price of $14.29.
From a technical perspective, the stock has been in a similar pattern to the overall market in 2015, gaining a mere 2%. However, the stock is now at the upper end of its trading range and a close above $14.75 would be a major breakout that could start the next leg higher.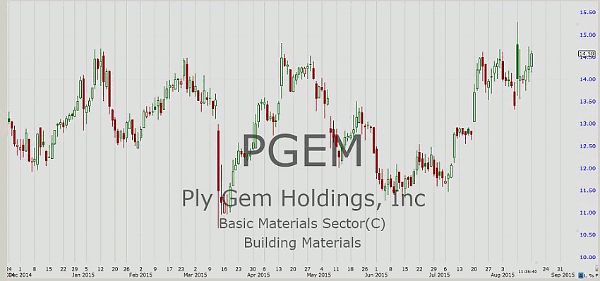 Click to Enlarge
Finally, there is not only momentum in the housing numbers, as of late. There is also outside factors such as historically low mortgage rates, surging rents, and the over $100 billion that consumers have saved on lower energy prices that could help boost the housing market and shares of PGEM.
Matt McCall, Founder and President, Penn Financial Group