Call Trading in Akamai (AKAM) Rockets Higher
03/01/2010 10:07 am EST
Focus: OPTIONS
Call activity rocketed to more than six times the expected level last Friday on Akamai Technologies, Inc. (AKAM), with about 20,000 of these bullishly oriented options crossing the tape. By contrast, AKAM's expected call volume today was fewer than 3,000 contracts.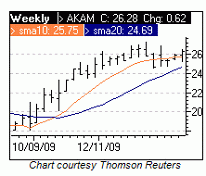 The day's most active strike is the March 28 call, where 4,115 contracts have crossed the tape. The majority of these calls have traded at the ask price, sending implied volatility up 5.1% as a result.
Also in play is the March 29 call, with volume of 3,463 contracts changing hands so far. Again, the bulk of these transactions have taken place near the ask price, revealing a bias toward buying activity. Implied volatility on this option has climbed 8.4% at last check.
Friday's call-skewed activity is a deviation from the recent trend on AKAM, which sports a skeptically slanted Schaeffer's put/call open interest ratio (SOIR) of 1.34. This SOIR rests in the 92nd annual percentile, just eight percentage points from a bearish peak.
There's no major news in particular that seems to be driving the stock today, but AKAM is up more than 2% at last check. The shares are currently hovering between support at their ten and 20-week moving averages and resistance in the $27 neighborhood.
By Elizabeth Harrow of Schaeffer's Trading Floor Blog