Interesting Option Activity in These Stocks
07/26/2010 10:27 am EST
Focus: OPTIONS
Option activity is heating up on DryShips Inc. (DRYS), BP plc (BP), and Fuel Systems Solutions, Inc. (FSYS). Here's a quick rundown of some of recent noteworthy trades:
Calls are the options of choice on DRYS, with volume more than tripling the norm. On Friday, over 10,000 calls crossed the tape, and most of the action was centered on DRYS' September series of options. The stock's September 4 call has seen 2,294 contracts change hands, while the September 5 call has racked up volume of 1,920 contracts. Most of these calls have traded at the ask price, suggesting they were purchased.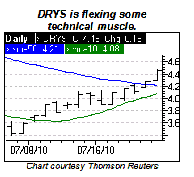 On the charts, DRYS was up more than 4% that afternoon, extending a recent bout of technical strength. The shares have cruised higher along their ten-day moving average since July 8, and they're now breaking out above their 50-day trend line, as well. Shorts might be feeling the heat amid this short-term rally, as bearish bets account for 12.8% of DRYS' float.
Meanwhile, another trader decided to build a collar spread on BP ahead of this week's earnings report from the oil major. The speculator simultaneously sold 750 contracts of BP's July 36 call and purchased 750 July 34 puts. (These are weekly options expiring this Friday, July 30.) This spread strategy allows an anxious investor to lock in preferred exit prices on a stock investment.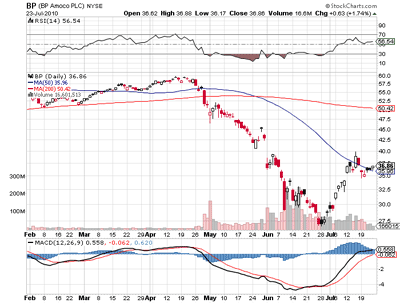 Click to Enlarge
Finally, call volume has ramped up to seven times the expected level on FSYS, with 1,360 contracts changing hands on Friday alone. The stock's August 29 call has seen 1,069 contracts trade, with 72% crossing the tape at the ask price, pointing to buying activity. With volume outpacing open interest on this narrowly out-of-the-money call, it looks like new bullish bets are being added at the August 29 strike.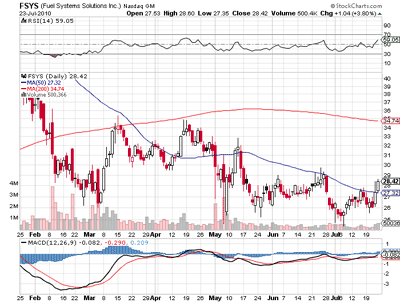 Click to Enlarge
By Elizabeth Harrow, contributor, Schaeffer's Trading Floor Blog