LEAPS Traders Jump in to General Growth Properties (GGP)
08/19/2010 12:01 am EST
Focus: OPTIONS
Options are unusually active on General Growth Properties, Inc. (GGP) this week, with overall volume rising to five times the norm on Wednesday. By mid-morning, approximately 4,900 calls and 2,000 puts have changed hands on the stock, and traders on both sides of the fence are favoring a long-term approach. The day's two most active strikes on GGP are long-term equity anticipation securities, or LEAPS.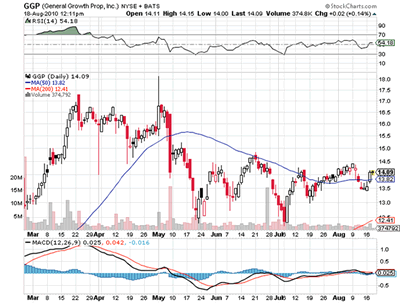 Click to Enlarge
Specifically, GGP's January 2011 15-strike call has seen 3,542 contracts change hands, with the majority trading at the ask price, suggesting they were purchased. Meanwhile, the stock's January 2011 12.50-strike put has traded volume of 1,805 contracts, with 54% crossing the tape at the ask price. GGP is currently trading just north of $14, placing both options out of the money.
Today's call-skewed volume is something of a deviation from the norm for GGP, which has racked up a ten-day International Securities Exchange (ISE) put/call volume ratio of 5.07. This ratio ranks higher than every other such reading taken during the past year, suggesting that bearishly biased speculation has reached peak levels on the ISE.
GGP was up nearly 4% this week, with traders reacting to news that Paulson & Co., a major hedge fund player, took a 6.6 million-share stake in the mall operator. The news is helping GGP maintain a foothold above tenuous support at its 35-week moving average, which has provided a semi-reliable floor for the shares since early July.
By Elizabeth Harrow, contributor, Schaeffer's Trading Floor Blog