Put Trading Rises on Target Corp. (TGT)
09/27/2010 1:57 pm EST
Focus: OPTIONS
Target Corp. 's (NYSE: TGT) CEO issued some bleak comments after the close on Thursday. US consumer demand has not shown sustained growth this year, Gregg Steinhafel said. He added that the company has become more conservative in its planning for the Christmas holidays.
"It's like a game of whack-a-mole," Steinhafel said in response to a reporter's question. But he does not expect Christmas to be as weak does Wal-Mart Stores' Bill Simon. Simon warned earlier this month that adults could expect only basic goods as gifts this year.
"I don't believe it is going to be a socks and underwear Christmas," Steinhafel said, referencing Simon's comment.
Pessimism is on the rise toward the retailer. The International Securities Exchange (ISE) has reported 3.9 puts purchased to open for every one call purchased to open during the past ten trading sessions. This ratio of puts to calls is higher than 99% of the readings taken during the past 12 months.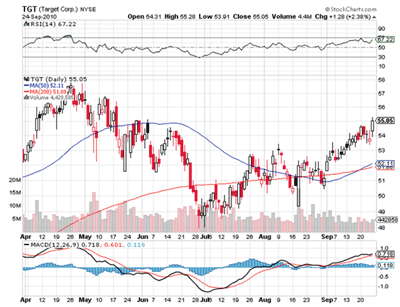 Click to Enlarge
However, sentiment is far from a pessimistic extreme. The Schaeffer's put/call open interest ratio for TGT comes in at 0.88, which is lower than 99% of all the readings taken during the past year. In other words, short-term options players have been more optimistically aligned toward the shares only 1% of the time during the past year.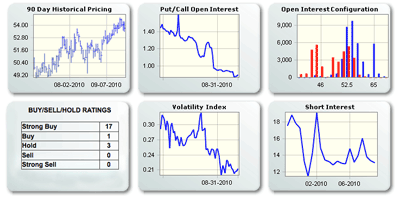 Click to Enlarge
However, the stock is vulnerable to potential downgrades, if the assessments of the upcoming shopping season come true. According to Zacks, the equity has earned 17 "strong buy" ratings, one "buy," and three "holds." This configuration leaves ample room for potential downgrades to weigh on the shares.
Jocelynn Drake is a contributor to Schaeffer's Trading Floor Blog.