Option Traders on Assured Guaranty (AGO) Expect Rebound
10/26/2010 12:01 am EST
Focus: OPTIONS
Shares of Assured Guaranty Ltd. (AGO) plunged nearly 9% after Standard & Poor's Ratings Services cut its rating on the bond insurer. Specifically, S&P downgraded Assured Guaranty's main operating subsidiaries to AA+ from AAA. The ratings outlook is "stable." Technically, the shares are testing support near the $19 level, which is home to AGO's rising ten-day moving average.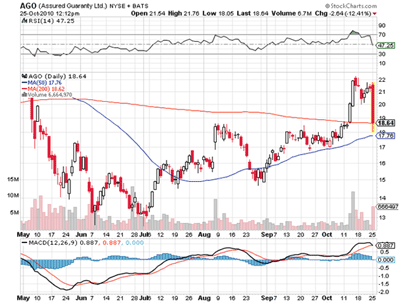 Click to Enlarge
Judging from the equity's options activity, options traders expect AGO to rebound from this setback. Specifically, the November 20/23 call debit spread was quite popular following the stock's initial plunge on the news. For example, one such trade saw 132 November 20 calls trade at the ask price of $1.14, or $114 per contract, at about 10:38 am on the International Securities Exchange (ISE), with 132 November 23 calls simultaneously sold for the bid price of $0.27, or $27 per contract.
The total cost for this debit spread was $0.87, or $87 per pair of contracts. In order to reach breakeven, the trader needs AGO to rally roughly 7.4% to $20.87 by the time these options expire on November 19.
By Joseph Hargett, contributor, Schaeffer's Trading Floor Blog