Option Traders Love Plastic: Shoes and Credit Cards
12/22/2010 12:01 am EST
Focus: OPTIONS
Options players yesterday were placing their bets on American Express Company (AXP) and Crocs, Inc. (CROX), with volume climbing well beyond the norm for both stocks. AXP has attracted a flood of call activity even as the stock swallows a steep loss, while outperformer CROX has been targeted by both call and put traders.
Calls were unusually popular on AXP, with approximately 19,000 contracts crossing the tape so far— about four times the equity's expected daily call volume. The most active strike is AXP's January 2011 46 call, where 4,402 contracts have changed hands. Nearly all of these overhead calls have traded near the ask price, indicating they were most likely purchased.
Not far behind is AXP's January 2011 43 call, where 2,462 contracts have crossed the tape, 69% of them at the ask price, indicating a bias toward buying activity.
AXP was down 5.3% by yesterday afternoon, however, as traders reacted to a mixed bag of analyst recommendations. KBW this morning upped its price target to $60 from $56, while Stifel Nicolaus downgraded the shares to "hold" from "buy." As a result of today's slide, AXP is in danger of breaching its 200-day moving average for only the second time since Oct. 29.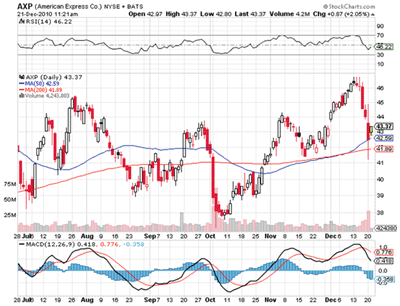 Click to Enlarge
Meanwhile, both calls and puts are experiencing a surge in popularity on CROX, with overall option volume rising to four times the usual level. So far, 3,874 calls and 3,037 puts have been exchanged on the footwear firm.
Most active are CROX's January 2011 19 call, with 892 contracts crossing the tape, as well as the stock's March 11 put, where 600 contracts have been exchanged. The majority of these options traded near the ask price, suggesting they were purchased.
No news in particular seems to have sparked yesterday's flurry of speculation on CROX, but the stock had added 3% by yesterday afternoon.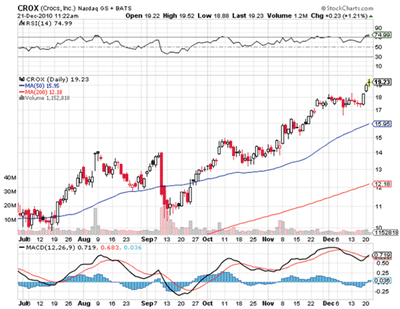 Click to Enlarge
The shares gapped above resistance in the $18.50 region at the open, extending a recent rally along the support of their ten- and 20-day moving averages. Earlier in the session, CROX tapped a new annual high of $19.04.
By Elizabeth Harrow, contributor, Schaeffer's Trading Floor Blog