Hair and Hogs Attract Option Traders
01/05/2011 12:02 am EST
Focus: OPTIONS
Option volume is heating up this week on Procter & Gamble Company (PG), makers of all kinds of hair and beauty products, and Harley-Davidson, Inc. (HOG), with both stocks seeing an unusual rush of activity. PG was the subject of a front-month spread speculator, while HOG is racking up heavy call volume.
Both calls and puts are in heavy rotation on PG, with overall option volume rising to about two times the expected level. So far, approximately 11,000 calls and 11,000 puts have changed hands on the consumer goods titan, and most of the volume crossed the tape as part of a high-volatility spread strategy.
Earlier today, two blocks totaling 7,500 January 2011 70 puts crossed the tape at the ask price of $5.75, suggesting they were purchased. At the same time, two matching blocks of 7,500 January 2011 70 calls traded at the ask price of $0.05. In other words, this appears to be the initiation of a long straddle on PG, with the trader anticipating a major move higher or lower during the next several weeks.
However, with PG hovering near $64.67, this straddle has a bearish bias. The trader could be trying to capitalize on a rejection from the $65 level, which has thwarted PG's progress since early November.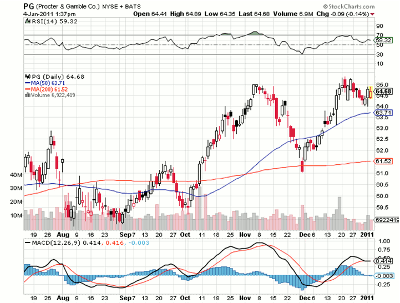 Click to Enlarge
Meanwhile, calls are the options of choice on HOG, with about 8,350 contracts crossing the tape by mid-day on Tuesday alone—seven times the equity's expected call volume. Most of the action is taking place at HOG's January 2011 38 and 37 calls, which have each traded in excess of 2,700 contracts so far (on Tuesday).
No news in particular seems to be driving the flurry of speculation on HOG, although The Fly on the Wall cites reignited buyout rumors for the rush of call volume. The stock has been in a mild consolidation range for the past few trading days.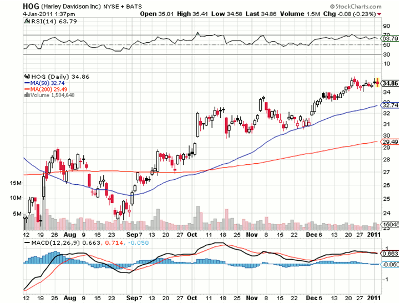 Click to Enlarge
By Elizabeth Harrow, contributor, Schaeffer's Trading Floor Blog