Trade Review: Long Ratio Call Spread
03/01/2011 5:00 am EST
Focus: OPTIONS
A carefully planned spread trade allows one trader to make a bullish pre-earnings bet that only loses under one condition.
Marvell Technology Group Ltd. (MRVL) has attracted some rather bullish options activity recently, as traders position themselves ahead of the company's quarterly earnings report next week. Specifically, MRVL is expected to post a profit of 42 cents per share after the close on Thursday, March 3, a figure that is six cents better than the same quarter last year.
At the time of this writing, MRVL was trading in the mid-$18 level: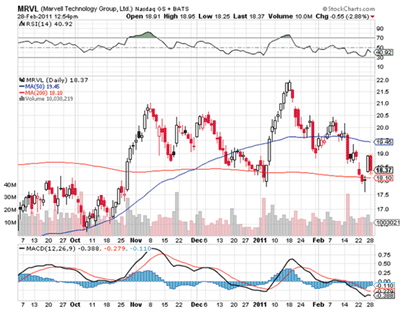 Click to Enlarge
During the past couple weeks, speculators on the International Securities Exchange (ISE), Chicago Board Options Exchange (CBOE), and Nasdaq OMX PHLX (PHLX) have bought to open nearly 12 calls for every one put, resulting in a collective ten-day call/put volume ratio of 11.83. This reading also ranks above 96% of all those taken in the past year, meaning that options traders have rarely snatched up calls at a faster pace during this time frame.
Taking a closer look at recent volume reveals a unique approach to betting bullishly on MRVL. Specifically, one trader opened up a long ratio call spread by purchasing 4,200 March 20 calls for the ask price of $0.32, or $32 per contract, and simultaneously selling 12,600 March 21 calls for the bid price of $0.13, or $13 per contract. The result is a net credit of $0.07, or $7 per pair of contracts.
This position reaches its maximum profit of $1.07, or $107 per pair of contracts, if MRVL rallies to $21 per share by the time March options expire. What's more, the trader keeps the net credit even if MRVL goes nowhere during this time frame.
In fact, the only way the trader loses is if the stock rallies sharply past the $21 level. In this case, his losses could be substantial, due to the fact that he sold three times more calls than he purchased. The chart below provides a visual representation of the profit/loss scenario.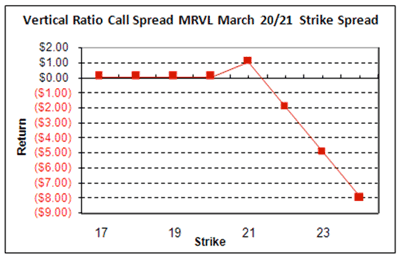 Click to Enlarge
By Joseph Hargett, contributor, Schaeffer's Trading Floor Blog