Dark Skies Ahead for SunPower?
06/14/2011 7:00 am EST
Focus: OPTIONS
Recent options activity indicates an extreme bearish bias, and traders can be seen buying puts and executing other bearish strategies in order to capitalize on a potential downside move.
Speculators have recently set their sights on SunPower Corporation (SPWRA), with overall option volume rising to ten times the expected intraday level last week. Last Friday alone, roughly 8,500 calls had changed hands by mid-morning, along with 17,000 puts, indicating a strong bias toward bearishly oriented options.
The most active put is SPWRA's June 25 strike, where 7,886 contracts had crossed the tape. Recent volume in the options is easily outstripping open interest daily, revealing that these are freshly opened positions. These in-the-money puts traded simultaneously with matching blocks of June 25 calls, indicating that a bearish bettor may be constructing a skeptically slanted straddle at this strike.
See also: Option Strangles 101
Meanwhile, thousands of contracts have traded at SPWRA's July 17 put, with 94% crossing the tape at the ask price. Open interest at this strike numbers just 1,100 contracts, so it seems safe to assume that new bearish bets are being added on this out-of-the-money option.
However, bearish attention from options traders is nothing new for the alternative energy issue. SPWRA's Schaeffer's put/call open interest ratio (SOIR) stands at 1.87, with puts nearly doubling calls among options slated to expire within three months. This ratio ranks above 100% of other such readings taken during the previous year, implying that short-term speculators are more pessimistically aligned now than at any other time.
On the charts, SPWRA has gained an impressive 66% in 2011. In recent weeks, the stock has been consolidating between $20.50 and $22: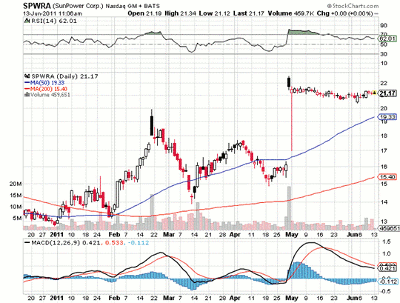 Click to Enlarge
By Elizabeth Harrow, contributor, Schaeffer's Trading Floor Blog
More for Option Traders
:
Visit the Options Center