Traders Bet on Bottom for MBIA Inc.
06/30/2011 8:00 am EST
Focus: OPTIONS
Option players are betting that shares of beaten-down bond insurer MBIA Inc. (MBI) have found a bottom, using longer-term LEAPS in anticipation of a move above the low put in this week.
Bond insurer MBIA Inc. (MBI) was heavily targeted in the options pits earlier this week, as the stock bucked the broad market trend higher on the heels of an unfavorable legal ruling.
Specifically, the New York Court of Appeals ruled that policyholders against the firm's restructuring plan can, in fact, sue MBIA for fraudulent conveyance and breach of contract, reversing a decision by a lower court. As a result, the shares fell roughly 4.9%.
MBI has had a tough year, as bond prices have been in the news, and the chatter about defaults continually increases.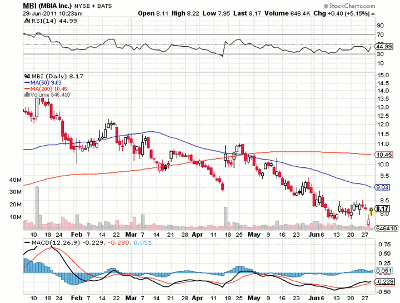 Click to Enlarge
By the closing bell on Tuesday (June 28), the security had seen about 13,000 calls and 13,000 puts change hands, as compared to its average daily volume of around 3,200 calls and 4,900 puts. Digging deeper into the data, it appears the January 2012 series was most popular on both sides of the aisle, with open interest increasing at a multitude of strikes.
On the call side of the tape, traders flocked to the deep-out-of-the-money January 2012 12.50 strike, which saw nearly 2,800 contracts cross the tape. The majority of the calls traded at the ask price, and call open interest at the long-term equity anticipation security (LEAPS) strike ballooned by almost 2,400 contracts overnight, pointing to buy-to-open activity.
However, with 16.6% of MBI's float sold short—representing more than six sessions' worth of pent-up buying demand—it's possible that short sellers were buying the calls to hedge their bearish bets.
On the flip side, the stock's near-the-money January 2012 7.50-strike put saw close to 6,200 contracts exchanged, almost all of which translated into new open interest overnight. However, 83% of the puts crossed at the bid price, suggesting they were sold.
By writing the long-term puts to open, the sellers are betting on MBI to settle above the $7.50 level when the LEAPS expire. In this best-case scenario, the puts will expire worthless, allowing the traders to retain the entire premium received at initiation.
See related: LEAPS: Better Odds, Less Time Decay
By Andrea Kramer, contributor, Schaeffer's Trading Floor Blog